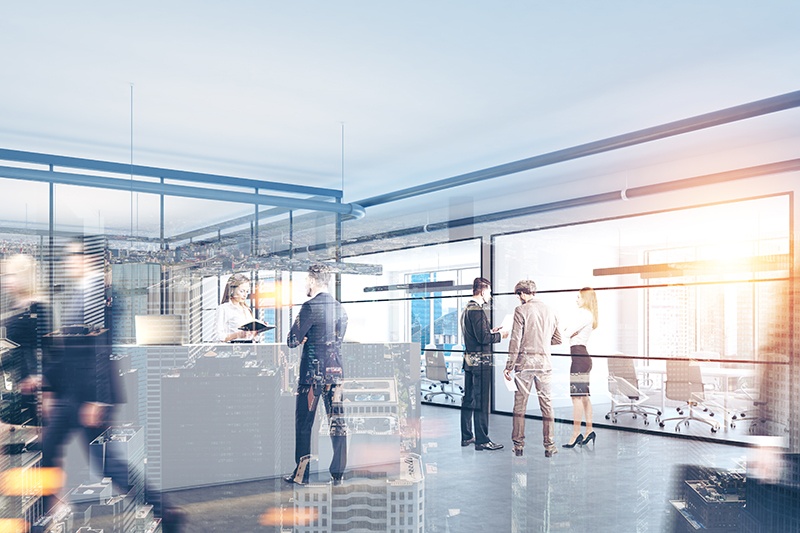 With social media and online advertising quickly replacing conventional forms of marketing and the increasing globalization of industries, companies are already heavily reliant on technology as a part of their daily operations. Technological developments don't just impact how you brand your business and communicate with employees, vendors and customers. Today, technology is also reshaping commercial real estate and can have an impact on leasing. Here are five ways that tech is shaking up commercial real estate:
1. More Data at Your Fingertips
Just a decade ago, companies had to go to great lengths to do in-depth market research when searching for new office space. With technology, it is now possible to access a wealth of information with just a few clicks. Free services can provide access to thousands of listings and basic statistics. With subscriptions or the help of a tenant rep broker, there is seemingly no limit to what you can discover about market data and specific properties right from your computer.
2. New Ways to Experience Properties
In the digital age, you can now tour properties around the world without ever leaving your home or office. Drones make it possible for property managers to provide stunning 360-degree images of properties. You can even tour the neighborhood remotely to see what buildings are nearby, thanks to satellite data and drones. Listing sites now feature virtual reality tours of buildings and office spaces, allowing you to step inside and see properties remotely. As a result, you can now easily compile lists of spaces that you wish to see in vision and eliminate many possibilities without ever having to tour.
3. Smarter Buildings and Offices
With the Internet of Things, buildings and offices are smarter than ever before. SMART systems allow you to control lighting, heating and cooling and other aspects of your space remotely using a computer, smartphone or tablet. These technologies provide more control to lower operating and utility costs. Plus, you can easily monitor an entire portfolio of commercial real estate from one location using your computer or mobile device.
4. Streamlined Property Management
Companies that have very large portfolios of commercial leases can now manage their properties with greater ease, thanks to technology. The latest CRE property management software programs streamline the process and make data readily accessible to your team through cloud-based storage. Analytics programs allow you to easily audit your portfolio, so that you can optimize by merging offices, subletting unused space and more.
5. Rethinking the Conventional Office
Technology is now allowing companies to rethink conventional offices and even eliminate them completely. With mobile devices and new software programs, employees can stay connected even when they're working from home. As a result, more and more companies are downsizing their offices, providing shared work areas for telecommuting employees to utilize when they're in the office. These technologies also make it possible for companies to decentralize, placing various departments and units across the country or even the globe to take advantage of programs like tax incentives to decrease costs.
Here are a few other articles we think you will like:
Subscribe to our blog for more CRE tips!!