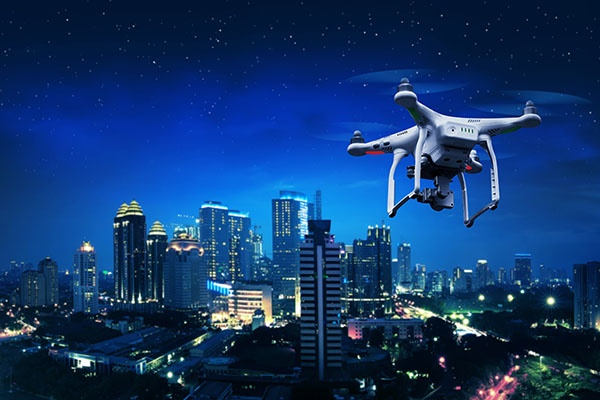 Drones are almost everywhere these days. It's hard to miss them in the news, and seeing them hanging over your neighbor's compound wouldn't catch you by surprise either. These remote-controlled couriers and cameras have had a major impact on many industries, commercial real estate being among them. If you are a landlord, real estate marketer or a commercial tenant, you need to familiarize yourself with drone technology and its impact on CRE.
What You Should Know Before Using Drones in CRE
Use of drones for commercial purposes has to abide by the rules and regulations set by the Federal Aviation Administration.


Drones weighing between 0.55 and 55 pounds must be duly registered. The registration is either free or relatively low cost.


Every drone is marked with a unique registration number upon registration.


As unmanned aircraft (UAS) technology evolves, the Federal Aviation Administration is bound to revise its rules from time to time.
Effective in Marketing Properties
Drones take aerial images and videos that provide fantastic views of existing properties as well as prospective views of properties that are yet to be constructed. Aerial videography and photography give real estate marketers and agents an opportunity to showcase their commercial listings in a powerful and unique way. This also offers potential tenants with a clearer view of the available spaces even without visiting the property in person. What's more is that using drones in CRE is a highly flexible and affordable way of marketing.
Makes Inspections Easy
As "virtual eyes in the sky", drones help property owners, real estate developers and commercial tenants to inspect all corners of the property, including hard to reach areas like the roof, and crawl space areas, etc. Besides helping in normal inspections, drones can help unearth potentially hazardous element such as gas leaks. This not only helps to prevent disasters from happening, but it could eliminate the cost of hiring professional inspectors from time to time to ensure that everything is in order.
Mapping the Property
Drones not only give detailed visual overviews of a commercial real estate listing, but they also provide an extraordinary view of its surrounding environments. It can help collect data that could be useful in surveys and guides, including the property's vicinity to various amenities. This kind of information can be very helpful to commercial tenants who would like to inspect a building before leasing. Drones can also help tenants to know important aspects about the space such as the layout and design elements.
Conclusion
Use of drones in the commercial real estate is on the rise and undoubtedly here to stay. As CRE and many other industries take advantage of what drones have to offer, changes in the technology are likely to occur and with them, several potential opportunities for commercial real estate owners and commercial tenants.
Here are a few other articles to check out:
Subscribe for more great CRE tips!!