Get a Bird's Eye View
You want a commercial lease management software that makes it easy to manage multiple sites from a single dashboard. That's a given. But what about one that enables you to do more with the data you already have? REoptimizer®'s dashboard ties your commercial real estate portfolio into a full-featured system that allows you to see the big picture. Optimized for your needs. Tailored to your taste. Get the intel you need in a single glance.
Meet the leader in corporate lease management software.
What Makes REoptimizer® different?


See The Big Picture
View your entire portfolio from the top down on one screen. Drill down for the details or customize your view to see only the most important data.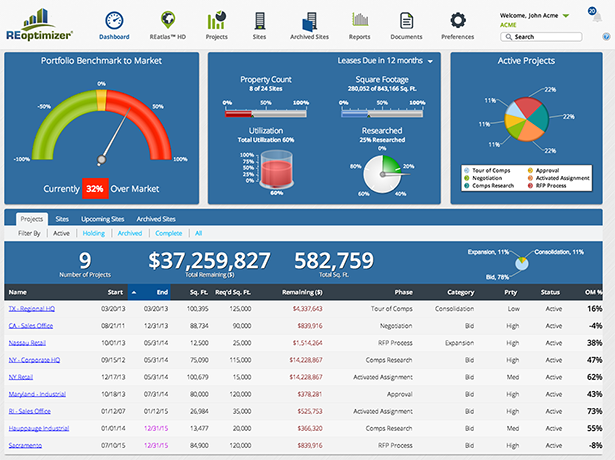 Stay On Top Of Deadlines
Never miss a deadline again. With one glance you can scroll through upcoming deadlines, view upcoming key dates and get notifications along the way.


Know Exactly Where You Stand
Sort and filter your properties. Make better decisions in less time. Manage your portfolio without the hassle and headache.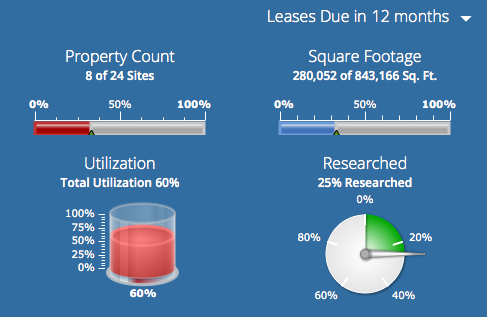 Manage Your Entire Portfolio From One Place
● See how your portfolio compares to current market prices
● Manage each property's lease, while simultaneously
● Easily identify which of your leases are expiring soon so you can take
● Keep track of all of your Projects and what stages they are in
● See utilization percentages for each of your current Sites