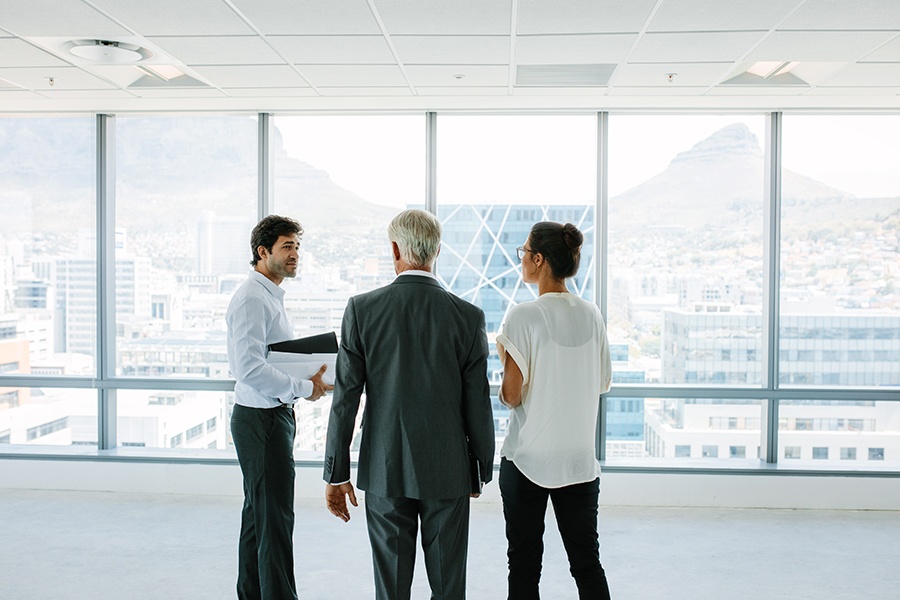 If you're looking to lease new space for your business, at some point you will go on a property tour. A tour is a great opportunity to see every space that you are considering, and following these seven tips will help you maximize every step.
1. It's a Team Effort
Don't go on a property tour alone. Bring your tenant rep, a space planner and anyone that can help you understand the space and its role in the market and help you see how it could serve your needs.
2. Make a Habit Of It
Walking through each space is a great first step, but to really get a sense of what it will be like to occupy a building, plan to make multiple trips at different times. Even if you can't get into the specific space that you'll be renting, the sounds you hear in the hallways, the people you meet in the elevator and the spaces you find (or don't find) in the parking garage will all tell you more about what it's like to occupy a particular building.
3. Keep an Open.... Floor Plan
Whether or not you plan to build your space out using an open floor plan, the more open a given space is the more options that you will have. When you do your property tour, pay attention to the shape of the space and the number of obstructions, if any. The fewer walls and vertical penetrations you have, the more options you have for your build out.
4. Equal Time, Equal Access
Try to time your visits so that each space gets about the same amount of time. If you have to rush through a space, you might end up missing out on its qualities.
5. Think Lazy. Very Lazy
A property tour is a great time to see how much work it will be to occupy and get in an out of a space. Your workers want quick access to their desks, their cars or public transit and everything in between. See if each space will appeal to this innate laziness -- then look for a fitness center in the building!
6. Don't Look At the Space
Whatever a space looks like you can usually assume that it will be different when you finally move in. The things that won't change, though, are everything surrounding the space. Pay careful attention to the building's common areas, since they are the first and last thing that everyone sees every day.
7. Two Days Are Better Than One
Finally, a property tour can be exhausting. If you're touring more than a small handful of spaces, consider splitting the tour into a couple of days (or more). That way, you will be fresh for every new space and you run less of a risk of having spaces run together and seem more similar than they actually are.
Here are a few other articles you might enjoy:
Subscribe to our blog for more CRE tips!!