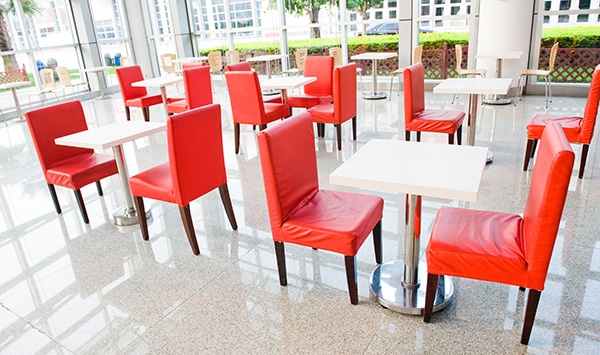 Today, office buildings feature a number of amenities and perks designed to attract new tenants through their doors. But which ones are truly the most desirable in the marketplace? Read on to find out and get ideas on what you can look for as you compare properties:
1. On-Site Health and Wellness Centers
With more and more people becoming health conscious, buildings with gyms and fitness studios are a major draw for companies. Not only do these facilities help employees maintain a better work-life balance, but they also benefit employers, as workers who exercise regularly are less likely to use sick days. Healthy employees can even lower health insurance costs.
2. Easy Access to Food
Employees don't want to spend their entire lunch break searching out food. That's why more and more office buildings are finding creative ways to bring lunch right to their facilities. Buildings may feature a cafeteria or restaurant on-site, have a large food court with many dining options available or sign contracts with food trucks to provide pop-up outdoor food courts.
3. LEED Certification
LEED-certified buildings offer benefits for companies and their employees alike. The energy efficiency of these facilities can greatly reduce utility costs. Plus, studies have found that employee morale is often higher in LEED-certified buildings and that worker productivity soars in the green facilities.
4. Outdoor Gathering Areas
Being able to enjoy some fresh air without having to stray away from the building is a major perk for employees. More and more office buildings are offering al fresco gathering areas from rooftop decks to atrium gardens to outdoor green spaces and gardens.
5. Multiple Commuting Options
With more employees seeking greener ways to commute, companies are now looking for more than just spacious parking lots. Buildings with bicycle storage and ioutlets for charging electric cars are in big demand, especially in urban areas. Companies are also searching for locations that are accessible by subway and bus.
6. DAS Systems
A distributed antenna system or DAS is a series of antennas that provides wireless coverage throughout a building. In facilities that offer this amenity, employees are less likely to be interrupted by dropped calls as they make their way through the building and will experience overall better connectivity with fewer dead zones.
7. Natural Lighting
Bright workplaces are happy workplaces, making natural light a huge amenity for companies. Offices with large windows and skylights can make long days at work more enjoyable for your team. Windows are just as important in shared areas of the building, as no one wants to arrive to work and feel as if they're entering a cavernous cave.


8. Easy Elevators
Employees don't want to have to leave 20 minutes early just to make sure they can catch the elevator and get to their offices. That's why it's important that you look for a building with multiple, fast-moving elevators. Consider visiting the building around 9AM to see how much congestion there is in the elevator area. If you spy dozens of people waiting, that's a good indication that the elevator service is slow.
Here are some other articles to check out:
Subscribe to our blog for more great tips!!