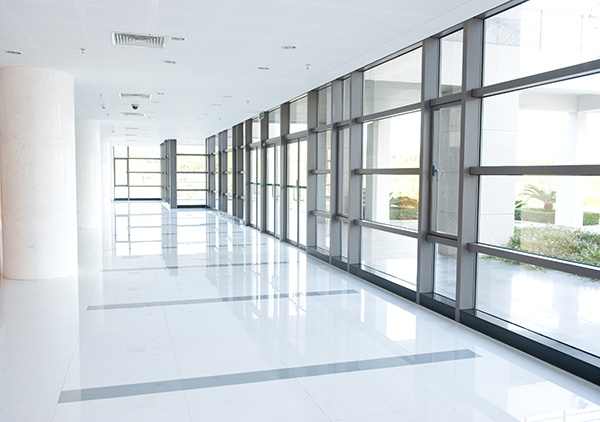 Everyone wants to work in a suitable location surrounded by fun colleagues, but availability of office amenities or the lack thereof can make or break the office occupants' day. Commercial real estate experts cite that certain shared amenities play a significant role in attracting and retaining high-quality corporate tenants. It is, therefore, important for corporate tenants to identify those amenities before leasing office spaces to make their time at work worthwhile. Here is our list of top 5 office amenities to look for:
Kitchen Area or Cafeteria
An office is more than just a space where people work in. It is, in many ways, a home away from home for hardworking employees. Since no one can perform optimally on an empty stomach, a corporate real estate tenant should choose an office with a kitchen area. Installing appliances such as a coffee maker, microwave, refrigerator, etc to enable the staff prepare and store their meals could make a big difference in the workplace.
Glass Walls or Window View
Research shows a strong correlation between employees' exposure to daylight and their quality of life. It's also revealed that the more employees are subjected to daylight exposure, the less they're likely to fall asleep at work. So, choosing an office space with glass walls or a window view can help to keep the staff active and boost their productivity.
Fast, Reliable Elevators
This is an important amenity, most especially if you're renting an office in a builiding with multiple floors. As much as using the stairs is encouraged for health reasons, having fast and reliable elevators really helps. They ensure that staff get to their workstations in good time and enable customers to access top floor offices conveniently.
Outdoor Facilities
Whether it's a roof-top deck, real built-out lounge or low-cost patio, outdoor facilities provides employees with options for places to unplug for brief moments. Choosing a building with outdoor amenities that are Wi-Fi equipped can enable the staff to continue working while enjoying the sunshine and fresh air.
Bike Racks
Bike racks are among the most requested cyclist amenities not just by techies and those trying to avoid being stuck in traffic, but also by health enthusiasts everywhere. Gone are the days when bike racks were positioned in the darkest corners of office buildings. Today, there are buildings that designate convenient spaces for bike racks. Considerate corporate tenants should consider such buildings to ensure that their staff and cycling clients keep their bikes in convenient places.
Although a unique set of office amenities is just one factor in an extremely complex commercial real estate market, investing in such amenities can draw the line between a vibrant and productive working environment and one that isn't. So, keeping the staff as comfortable as possible at the office is a sure way of ensuring efficient delivery of services to the satisfaction of the customers.
Here are a few other articles to check out:
Subscribe to our blog for more great CRE tips!!