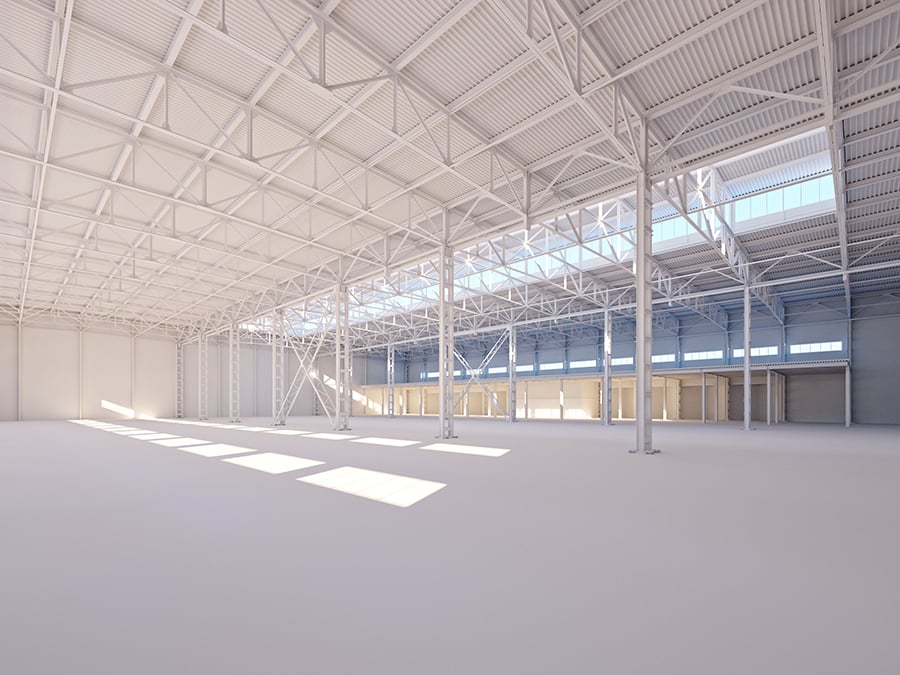 Guest blog by Becky Holton. Becky is a journalist and blogger. She is interested in education technologies and is always ready to support informative speaking. Follow her on Twitter, @HoltonBecky1.

Designing a brand new warehouse gives you the opportunity to create a perfect place for your products, but it can also go terribly wrong if you don't follow the state of the art warehousing principles. However, there is no secret formula to tell you how to design a space-efficient and productive distribution center.
According to the report, American companies opened over 1.6 thousand warehouses since 2013 and each one had to analyze its own peculiarities before launching the project. You should do the same thing and approach the design process with all due attention, but our job is to give you a hand by discussing five key tips that can be applied to all cases.
How to Create a Perfect Warehouse for Your Business
A warehouse constructor has to consider a wide range of factors before delving deeper into the project. First of all, you must consider the basics of your business: the number of SKUs and palettes, inventory turns, palette dimensions, seasonality of the products, and many more.
Don't be afraid of asking experts to assist you. Here's a useful analogy – students who need help with their school papers tend to consult with the best essay writing service such as Assignment Helper or Edugeeksclub.com. You should do the same thing when launching a new warehouse project.
What we can do here is give you a few essential tips that proved to work well in all situations. Without further ado, let's check them out!
1. Think about the turnaround of each SKU
The first thing you need to do is to analyze each SKU and consider their average turnaround times. After all, the most popular products have to be stored near the shipping area because it helps employees to work faster and more efficiently.
It is the famous Pareto principle. According to his 80/20 rule, approximately 80% of all warehouse actions are related to only about 20% of your products. This is exactly why it's important to keep in-demand SKUs in the nearest proximity of the shipping zone.
Our suggestion is to design a warehouse based on the ABC categorization, where the A type of SKUs represents the most popular product group. It will make inventory management quicker and more convenient for your workers.
2. Try to predict activity level
When it comes to warehouse layout design, one of the key things is to evaluate and predict future activity levels. Generally speaking, every warehouse can fall into the one of the four main categories:
Low activity & low storage

High activity & low storage

Low activity & high storage

High activity & high storage
Only the fourth category actually requires multiple shipping areas and additional features such as humidity controls, heating, or cooling zones. If you are not launching a big business with automated picking procedures, then you might want to keep things simple and prepare for manual handling of the goods.
3. Stick to the 5S principle
The 5S principle is a popular business concept that can be applied to many fields of work, including warehouse design. The system highlights the importance of a productive organization, pointing out the five pillars:
Sort: The first rule says you should only keep the necessary SKUs in your warehouse.

Set in order: The next advice is to organize products in a way that enables seamless workflow.

Shine: Keep the warehouse smooth and silky 365 days a year.

Standardize: Prepare a standardized handling procedure to make the job simpler and universal.

Systematize: Reevaluate all procedures regularly to eliminate possible pain points.
4. Take advantage of warehouse management systems
A good warehouse management system (WMS) can drastically improve the layout of your new logistic center, especially if you are using one already and have the data needed to predict the workflow in the new warehouse.
If you still didn't choose a WMS, we suggest testing some of the frequently used platforms.
For instance, you can try with one of the following tools:
5. Safety comes first
While it is true that you need to maximize the efficiency of your warehouse without having any extra costs, the fact remains that workers' safety is the most important aspect of the layout. Let it be your number one priority by respecting security standards and preventing possible injuries. Leave enough room between palette places for both your employees and forklifts. Be careful with dock edges, slots, and bins because they are all critical points where most incidents occur.
Conclusion
Building a warehouse may seem like the easiest design and construction project, but it actually demands a fair share of experience and research. You need to take into account the peculiarities of your own business and follow the latest principles of inventory management. Make sure you engage the help of a tenant rep broker, who can help you through the process.
In this post, we showed you five tips to design a space-efficient and productive new warehouse. Have you ever used some of these rules before? Do you have other interesting suggestions to share with our readers? Let us know in comments as we will be glad to discuss this interesting topic with you.
If you are not sure how to put it all into your plan, we recommend you to consult with write my essay uk, Essaygeeks.co.uk, essay writer service, essay writing service.
Here are a few other articles you might enjoy:
Subscribe to our blog for more Commercial Real Estate tips!!