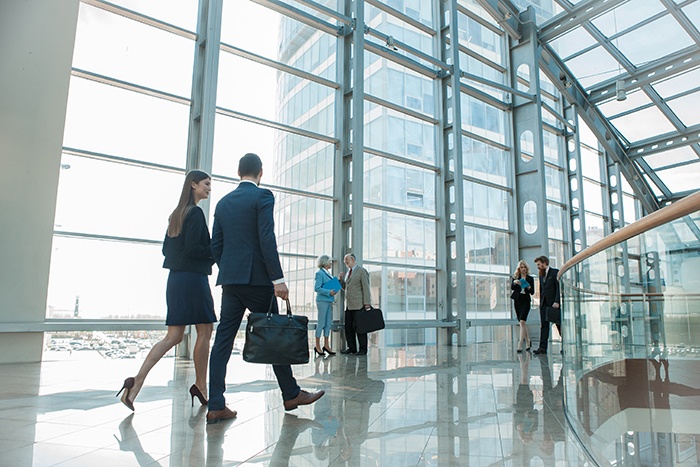 When you're renting an office space for your business, the monthly rent isn't the only cost you'll be required to pay the landlord. In most cases, you will also be expected to pay common area maintenance or CAM to cover costs associated with the shared parts of the building like the elevators, lobby and parking lot.
The first step toward anticipating and controlling these costs is to find out exactly what your landlord is including in your CAM and how the percentage that you'll be required to pay is calculated. Once you have a clear picture of what the costs are, you can examine them individually. Some possible costs include:
Utilities
If you are billed for utilities individually, you can have a big impact on your own costs by taking steps to make your space more energy efficient. Simply replacing light bulbs with energy-saving models and turning off lights in rooms that are unoccupied can have a big impact. In the event that utility costs are billed together, you could consider forming a committee to discuss green initiatives that all tenants could implement to reduce costs.
Capital Expenditures
Be on the lookout for signs that repairs, maintenance and improvements are going on in the building. Work done in common areas or to the roof or another key portion of the structure have a potential to contribute to your CAM costs. Don't be afraid to inquire about the reason the work was done. Depending on the language of your lease, you may not be responsible for capital expenditures caused by negligence.
Insurance
Much like capital expenditures, anticipating increases in insurance costs requires vigilance. If you're aware that your building was damaged due to vandalism or an act of nature, you may see an increase in the insurance costs for your building in the future.
Real Estate Taxes
Keep an eye on the real estate market and the assessed value of your building. When property values are on the rise, real estate taxes will often increase, so you'll need to be ready for higher CAM costs. If the market begins a downward trend, talk to the landlord about requesting a reassessment, which could lower the tax portion of your CAM.
Controllable Costs
Services like snow removal, landscaping, security and janitorial services are often more controllable for your landlord. By gathering quotes and negotiating deals, landlords can mitigate the costs of these types of services. Having language in your lease that caps the level of controllable costs that can be added to your CAM can save you money.
Administrative and Management Fees
Administrative and management fees are one of the places where you are most likely to have success reducing CAM costs. If your landlord is including these types of fees in your CAM, consider renegotiating your lease to have them lowered or removed. Many landlords are willing to be flexible with these types of fees, particularly if you are signing a long-term lease or will be occupying a large portion of the building.
Here are a few other articles to check out:
Subscribe to our blog for more CRE tips!!