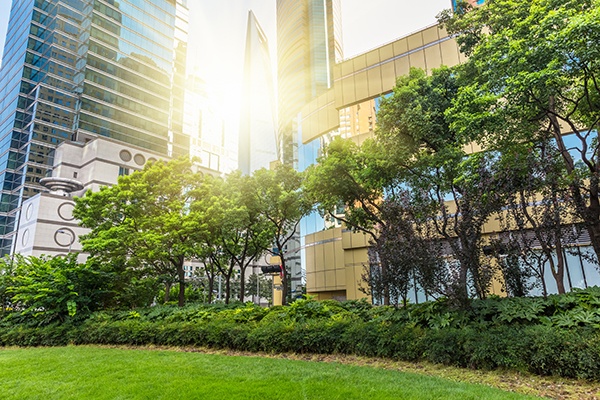 More and more LEED-certified buildings are being constructed in cities throughout the United States, giving prospective commercial tenants like you more green choices to consider when you're looking for new office space. Rents in LEED-certified buildings are often higher than in competitor buildings, leading some companies to wonder whether it's worth the added cost. The truth is that there are numerous reasons to go green that allow commercial tenants to maximize their return on investment in office space. Some of the benefits of leasing a green building include:
1. Major Savings in Occupancy Costs
To qualify for LEED certification, buildings must prove to be very energy efficient. That means less wasted water, less expensive heating and cooling systems and less costly electricity. All of these green improvements are passed along as savings to tenants, who pay less for their utilities than they otherwise would in an office space of identical size in a non LEED-certified building.
2. Added Value for Your Brand
A survey conducted by Nielsen Global found that more than half of respondents were willing to pay more for services and products from companies that are eco friendly. Occupying space in a green building is something that you can promote and use to boost your brand image. Prospective clients and customers that prefer to do business with green companies will see you in a more positive light, giving you a competitive advantage in your industry.
3. Decreased Carbon Footprint
Many companies today are striving to be greener as a part of their overall corporate responsibility initiatives. Moving into a green building is one way to shrink the size of your company's eco footprint and accomplish that goal. Even if you make no other changes to your operations, occupying space in an LEED-certified building means conserving energy and water, making the investment in potentially higher rents an investment in your green initiatives.
4. Less Lost Work Time
LEED-certified buildings aren't just greener than others; they've also proven to be healthier. Studies have found that eco-friendly buildings can decrease respiratory infections by 9 to 20 percent, allergy and asthma symptoms by 18 to 25 percent and other non-specific health symptoms by 20 to 50 percent. The research indicates that employees working in green office spaces are less likely to become sick or suffer symptoms from numerous chronic conditions, meaning less call-offs and sick time for your company.
5. Better Productivity and Employee Retention
Working in a green building may actually help to boost the performance of your employees. Studies have found that the better lighting designs of green buildings and other features of LEED-certified spaces increase worker productivity. Research also suggests that employees find LEED-certified buildings to be pleasant working environments, leading to increases in job satisfaction rate. This leads to better morale and a lower turnover rate for companies.
6. Powerful Recruitment Tool
Companies looking to attract talented Millennials to add to their team will find LEED-certified buildings to be a great selling point in recruiting. Surveys have found that Millennials want to work for companies that are making a difference in the world and are more concerned with environmental issues.
Here are a few other articles to check out:
Here are a few other articles to check out:

References: