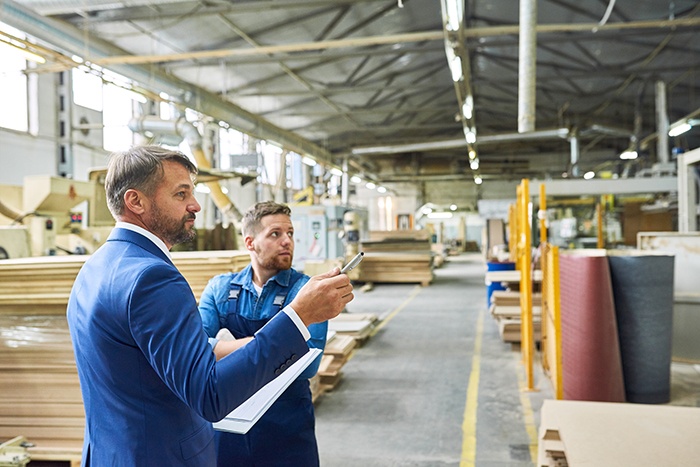 At first glance, warehouse spaces often seem very much the same, leading many business owners to simply choose the one that provides the right amount of square footage at the best price. In actuality, there are many ways that properties can differ, so it's important that you know what to look for when you tour potential rental properties. Be sure to examine all of the following when you take your tour:
1. The Exterior
Before you even walk inside, take time to assess the parking lotand loading dock areas. Is there adequate parking available for employees that will work onsite every day? Will there be spaces left over for team members that will need to visit periodically? Can trucks easily access the loading dock? Will drivers have enough space to safely maneuver large vehicles?
2. Ceiling
In warehouses, cubic footage is more important than square footage. This measurement of space takes into consideration how high the ceiling is and gives you a feel for how much can be stored in the space. Does the warehouse have enough space to suit your needs? Are the ceilings high enough for your shelving units? Do they provide enough clearance for machinery?


3. Climate Control
If employees will need to work in the space daily or you are storing temperature-sensitive items, it's important that the warehouse is climate controlled with heating and air conditioning. Humidity control can also be important if items in storage could be damaged by moisture. Be sure to ask how old the HVAC system is to get a feel for what type of maintenance expenses may be involved and how efficient the system is.
4. Wiring and Lighting
Is the wiring compatible with your equipment? Are there enough outlets to power equipment? How well lit is the warehouse? Is there natural lighting? Depending on what you're storing, you may want to have a space that is brightly lit by natural light to create a pleasant work environment or one that completely blocks sun to protect your items.


5. Safety
How is the building protected? Is there a security system in place? Are security cameras installed? Is there an onsite guard or a gate to protect the property? What type of fire suppression systems are in place? When was the last time they were tested? Is any part of the warehouse fire rated to protect irreplaceable items?


6. Flooring
Is the weight limit of the flooring adequate for your needs? Does the surface comply with OSHA regulations for your type of business? Are there worn spots that could pose a risk for tripping hazards or that could make it difficult to roll dollies and equipment through the space?
7. Other Spaces
Do you need other spaces in your warehouse beyond just storage room? Some companies may require an office space for a manager or a break room for full-time, onsite employees. Are there bathrooms onsite? What condition are they in?


8. Connectivity
Is the warehouse equipped with Wi-Fi? If so, are you able to connect easily throughout the building? Is there cellular service throughout the space? You may need to have wireless boosters installed in order to properly use inventory control software.
Here are some other Warehouse articles to check out:
Subscribe to our blog for more CRE tips!!