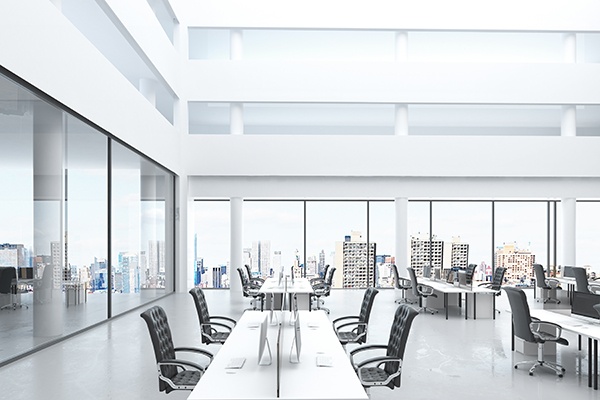 Calculating your occupancy costs correctly is important for managing the expenses of your company. Unfortunately, many companies underestimate their occupancy costs or forget to consider factors that contribute to the overall cost of occupying a commercial space. To avoid making mistakes, be sure to consider the following when calculating your occupancy costs:
1. Rent
This is one checkbox that companies don't usually forget--the amount that is paid every month to occupy a commercial office space.
2. Common Area Maintenance
Although maintaining the common areas of your office building will fall on the shoulders of your property manager, your company is responsible for covering the costs of it. What's included in your Common Area Maintenance or CAM fees may vary depending on your lease, but generally, things like garbage service, snow removal, parking lot maintenance and landscaping are among the costs. Keep in mind that CAM may fluctuate from month to month, depending on how your lease is structured. It's better to estimate CAM high to leave wiggle room in your budget.
3. Property Insurance
Even though your landlord writes the final check to cover the property insurance for your building, you're responsible for paying a percentage of the bill. In most cases, the amount owed is based upon the amount of square footage your business occupies compared to the overall square footage of the building.
4. Taxes
Like property insurance costs, property taxes are passed along to tenants, typically using the same formula that is employed to determine property insurance payments.
5. General Liability Insurance
General liability insurance is a must-have. Not only is it necessary to protect your business, but in most cases, it's required as a term of lease agreement.
6. Security Services
Depending on how your lease is structured, you may have to pay fees for building security or be responsible for paying the monthly bill for your security system monitoring.
7. Utilities
In many cases, utilities like water, electricity and sewage are not included in a monthly lease and must be added to other expenditures to calculate your total occupancy costs. Internet, cable and phone service are usually not included in rent even when other utilities are.
8. Cleaning Services
Tenants are usually responsible for hiring and paying their own cleaning service if they choose to use one.
9. Costs Not Covered in Your Lease
After you have considered all of the items outlined above, it's time to get out your lease and carefully review the terms.
Find out whether or not you're responsible for the following:
- Hiring pest control services as needed
- Covering the cost of HVAC maintenance
- Paying for incidental repairs needed to the facilities
If any of these or any other aspects of building maintenance are the responsibility of your company, leave an allowance for routine maintenance and unexpected repairs in your cost of occupancy calculation.
10. Other Incidentals
Depending on what type of services you choose to use for maintaining your facility, your occupancy costs may also include:
- Plant service
- Furniture or equipment rentals
- Bottled water or water machine service
Other great articles to check out:
Subscribe to our blog for more great tips!