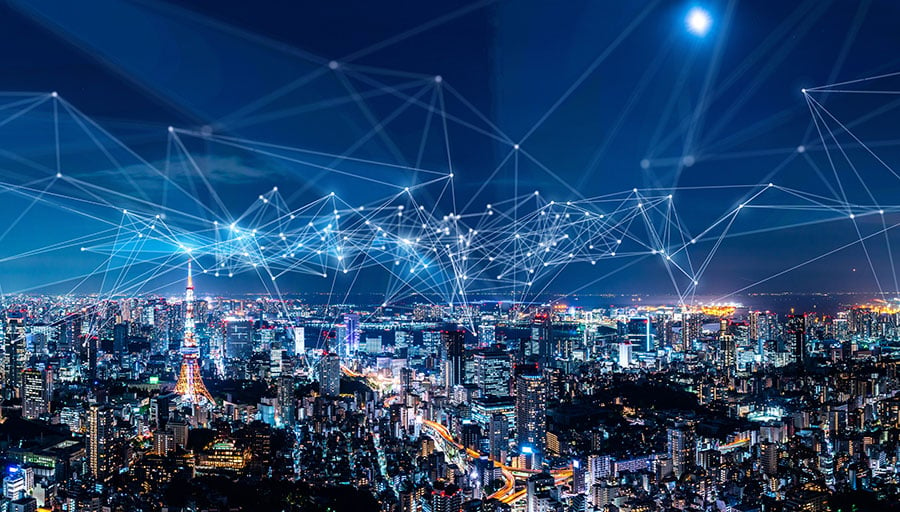 Guest blog by Holly Welles. Holly is a real estate blogger interested in the ever-shifting landscape of the market. You can read more of her work on her own blog, The Estate Update, and follow her on Twitter @HollyAWelles.
With the emergence of new technologies, nearly every facet of the world has started to change. The workplace is following the same path, integrating the latest systems and software to create a more efficient place for people to work. Commercial tenants have shown a keen interest in these innovations, and building owners are beginning to catch on.
Of course, it's hard to keep current with the tech landscape when it's always shifting. If you're unsure what to expect from a modern office space, you're not alone. Read on to learn about some of the building technologies in use today.
1. Smart Tech Compatibility
When the first computers started to enter the office space, it was more than enough to have a desktop monitor and dial-up internet. Now, employees want their computers and tech to instantly connect, improving the efficiency and convenience of their work space.
Building owners understand the need for connectivity and smart tech, which is why office spaces are starting to come with smart tech compatibility. If there isn't already tech like smart thermostats or lighting, ask the owners if the office space will work with smart tech.
Installing smart tech is a game changer for any business, an important detail to consider when browsing properties.
2. Biometric Door Locks
Almost every office has some form of security measure at their front door to prevent criminal activity. It's essential to have, and the rising popularity of biometric locks speaks to that fact.
In 2019, an increasing number of companies are using biometric door locks for more precise security. Every employee scans their fingerprint into the computer system, letting them come and go as they please. It's a much more secure way of locking the office, as badges are easy to lose and even easier to find by opportunistic intruders.
3. Reliable Power
Electricity is fundamental to most businesses, an amenity that's often taken for granted. Every available office space your browse will have electricity, of course, but can you depend on it?
No business should have to deal with power outage during unpredictable storms or technical problems, and failing to check this detail can lead to serious issues down the road.
To address potential problems, modern office spaces can use uninterruptible power supply systems. They use a megawatt black box that turns on when it senses an electrical outage. If a business can't afford to put their work on pause, they should always make sure their building has the support it needs.
4. Scheduled Lighting System
Everyone's experienced that moment where they double-take over the electric bill. It's way higher than you were expecting, and there's not much you can do. Except you can.
A high-quality office space should have a lighting system connected to a timer or the internet, so you can schedule when it turns on and off. Some programs will even let the tenant determine how long the lights stay on before it no longer detects movement.
Talk with the building owner and ask if they've installed a scheduled lighting system. It'll save your business a substantial sum of money.
5. Visitor Management Service
Most office spaces share a building with other office spaces. That means the visitors for any business enter and leave the same front door.
Building owners that are a little more in touch with modern tech will have a visitor management service. This service will capture and store visitor data, automatically running it against things like government watch lists and criminal registries.
Have a conversation about these services with the building owners you meet. A smart visitor management service will increase efficiency and make the office a safer place for everyone who works there.
6. Optimized HVAC Units
Saving money on your energy consumption has much to do with your HVAC system. An essential element of smart building technology is an optimized unit.
Nearly 44% of commercial buildings have an HVAC system, but not all of them are efficient. A building owner can optimize their HVAC by installing upgrades and controls to automatically switch the unit to a more holistic system. That means boilers, ductwork, sensors and diffusers all work more effectively to use the least amount of energy.
This is a big project to take on, so if an office space doesn't already have an optimized HVAC unit, the owner may not be willing to invest.
7. Updated Internet Infrastructure
Another aspect of tech that many tenants forget is their internet connection. It's so ingrained in the day-to-day life of the average office worker that it's easy to forget.
That said, you aren't likely to find a building owner who doesn't already provide some kind of internet connection for their tenants. But is it fully up to date?
The best building owners will change their internet infrastructure every few years. It ensures you have high-speed fiber connections that are dependable. Certain building owners may even have diverse access points and specific rise configurations, all to make their internet connection faster and more reliable.
Any leasing space you're interested in should be accessible by the most current forms of internet infrastructure.
Office Spaces Need Advancement
As you tour different office spaces, speak with each building owner about their property's tech. Visitor management services, power supply systems and updated internet infrastructure are just a few of the ways the building owner can put their tenants first. When you see that level of care in a building, you'll know you're in for a good deal.
Here are a few other articles we think you'll enjoy:
Subscribe to our blog for more CRE tips!!