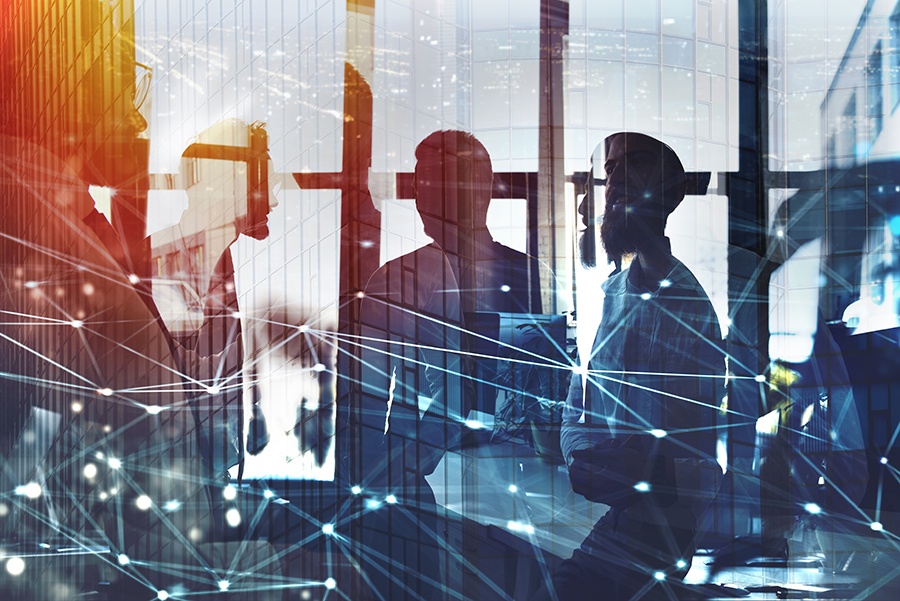 Guest blog by Holly Welles. Holly is a real estate blogger interested in the ever-shifting landscape of the market. You can read more of her work on her own blog, The Estate Update, or subscribe for a first look at every new tip and follow her on Twitter @HollyAWelles.
Today's modern office requires connectivity to remain competitive. The Internet of Things (IoT) advances every year. Our lives are highly connected to the internet, from smartphones that keep us dialed into social media to smart buildings that do everything for us.
An astonishing 77 percent of Americans own a smartphone. Therefore, it's a good idea to create more productiveness and attract workers with benefits such as smart building features. When workers are connected, they can work more efficiently and collaborate more easily. Here are some ways to increase connectivity in your office:
1. Order Office Supplies
One way to ease processes in the office is to connect key workers responsible for ordering supplies with systems that do so. If Jack works in the media department and notices they are low on a particular type of ink for a specific printer, he orders it on the fly. Some systems may even automatically track inventory and order for Jack, freeing him up for hands-on management tasks.
2. Boost Wi-Fi
If you boost Wi-Fi, some employees may get on social media and do other non-work tasks. However, better Wi-Fi also allows workers to communicate quickly with one another to solve problems and troubleshoot issues for customers. Even something as simple as relocating your router to a new, central location can boost connectivity in the office.
Increased Wi-Fi connectivity also allows you to add flexibility to your office. Workers can head to designated break-out spaces or meeting rooms to work on important projects without worrying about their work being disrupted. Collaborative work environments rely on Internet availability.
3. Go to the Cloud
Creating cloud-based databases allows your workers to access files no matter where they are at any given time. Cloud connectivity is particularly important in a world where more and more people are working from home or while traveling. Imagine that a sales tech is in a customer's office and needs to answer a very specific question. With cloud-based databases, the salesperson simply logs into the system and grabs the info they need.
4. Integrate With AI
Artificial intelligence (AI) has become more commonplace in today's business environment. Imagine a world where AI takes over time-consuming tasks such as reviewing customer files for errors or looking for patterns in ordering. Integrate your entire system with AI and put your employees on more important tasks that a computer isn't capable of doing.
5. Enable Mobile Connectivity
As already mentioned, we are living in an increasingly mobile-driven world. Figure out ways to keep your workers connected even when they are on the run. Train employees to use mobile email or create an app for a messaging system that is both office wide and team specific.
6. Use Collaborative Tools
Collaborative tools allow workers to bounce ideas off one another and be more productive. Take Microsoft SharePoint as one example of a system that allows workers to post projects, make changes, add ideas and even get the client involved in the process. There are many different collaboration platforms. The best collaboration tool for your business offers the basic functions you need and falls within your price range. Which platform works best for your needs may change over time.
People Expect Improved Connectivity
Workers expect free Wi-Fi in any office setting, but connectivity is about more than just how fast video streams to a cellphone. Implementing changes in software, database design and wireless functions all work together to create a connected office that will take your business into the future.
Here are a few other articles you might enjoy:
Subscribe to our blog for more CRE tips!!