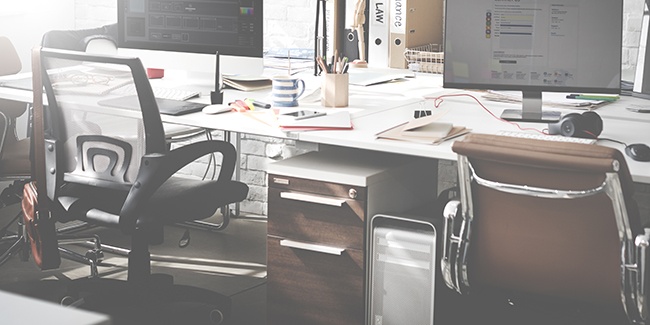 An office space is like a blank canvas waiting for you to bring to life and how you choose to design the layout can have a big impact on the productivity and morale of your team. Following these tips will help you turn that empty space into a functional, appealing workplace.
1. Match Space Type to Job Function
Today, there is a tendency to move offices to entirely open floor plans based on the belief that these types of layouts allow for easier communication and provide a pleasant, spacious environment. While these statements are true, the problem is that not every job lends itself to shared office space.
Employees that must concentrate on difficult tasks and those that deal with sensitive and confidential information still benefit from private offices. Instead of going for an all open or all closed layout, provide work spaces tailored to job functions. Also, have a few enclosed offices that employees in open work areas can use for phone calls and other tasks that require quiet.
2. Create Areas for Collaboration
Turn unused nooks in your floor plan into comfortable places for collaboration. Place work tables and chairs in some spots and seating areas with sofas, armchairs and coffee tables in others. These informal meeting spots are bound to be used more than stuffy conference rooms, and they can be used both by clients and your team.
3. Provide Plenty of Plug-in Places
Between desktop computers, laptops and smartphones, employees need plenty of plugs. In addition to supplying every work space with an outlet, add plugs and charging stations to other key areas of the office, such as those aforementioned collaborative work areas, conference rooms and break rooms. You can also expand your charging possibilities by choosing desk lamps with built-in USB ports.
4. Use the Light to Your Advantage
Natural light has been shown to benefit morale and improve worker efficiency. When dividing up your office space, do your best to ensure that all work areas that will be used every day receive light from at least one window. Use window-less areas for shared offices, break rooms, and other areas that are not used for work. Laying out your space with careful attention to window placement can save your company money, too, as you can reduce the use of electric light on sunny days.
5. Don't Skimp on Color
The days of eggshell walls and brown floors in office spaces are coming to an end. Increasingly, employers are realizing that energizing colors like red, orange and yellow can set an upbeat positive mood in a living space. Incorporating color doesn't mean having to paint every wall. Light fixtures, wallpaper borders and chairs all provide opportunities for splashing some fun color into the décor.
6. Add Some Fun
For Millennials and members of Generation X, the ability to have fun at work is important. Consider adding an arcade game or pinball machine to the break room to spice things up or using whimsical sculptures and artwork to liven up the space.
Here are a few other articles to check out:
Subscribe to the REoptimizer® blog for more CRE tips!