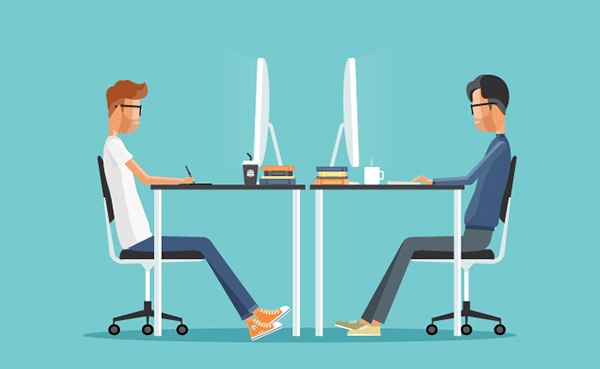 With the proliferation of co-working space providers like WeWork, some companies are considering abandoning their traditional office space. Co-working environments have some unique benefits, but they are unlikely to completely replace traditional offices. After all, they represent an evolutionary step from the executive suite, and those facilities haven't crowded out regular tenancy.
The Benefits of Co-Working Space
Co-working space offers three key benefits.
It is frequently cool and millennial friendly, making it a potential draw for recruiting.

It gives you a place to house your employees in an amenity laden space for a seemingly low price and with a high degree of flexibility.

It offers locations throughout the country and, with some providers, the world.
All of these are significant benefits on their own right and, together, they might seem like they make co-working environments better than traditional offices. In some instances, they really are. The classic example of where you might want to use one of these spaces is for a small branch office or for an incubator space for a new venture within your business when those units would not work well in an executive suite setting.
Why Co-Working Space Is No Panacea
All of the benefits of co-working space come with equal drawbacks. These drawbacks ultimately mean that while co-working environments can be a part of your company's overall corporate real estate strategy, they are unlikely to completely take that strategy over.
First, not every business wants a "cool and millennial friendly" space. Many of these types of offices have a look and feel that is not a good fit for many corporate cultures. They can also present challenges for people who need privacy, quiet space or stability to operate at maximum efficiency. Finally, their coolness can mean that your employees consider themselves a part of the overall community of the space instead of a part of your company. This can potentially lead to retention problems (although it can also lead to opportunities to recruit from other companies in the same space).
Second, shared work environments are neither as inexpensive nor as flexible as they seem. Typically, the best pricing is available when you sign a longer-term contract. While you might not need to sign a multi-year agreement, year long terms are common. Plus, if a space is popular, you could end up having someone else take your particular assigned space away from you if you do not have an agreement in place.
Bear in mind that the low monthly prices that some co-working space providers offer only cover access to common areas. This means that your employees will have to work at shared tables, depend on their cell phones and not have any space of their own. Private spaces are usually much more expensive and if you need to have any scale, you will probably find that your own space ends up costing less.
Finally, while co-working spaces are more prevalent than they were a few years ago, depending on them means that you can only office where they are located. While major cities typically have a good selection of these facilities, every city has some traditional office space vacant that your company can occupy. Unless you are only looking to be in the New Yorks, San Franciscos, Londons and Dubais of the world, you will probably find that some cities lack the right type of co-working space for your needs. This issue is a key reason that traditional office space still plays a role for most companies.
Here are a few articles to take a look at:
Subscribe to our blog for more great CRE tips!!