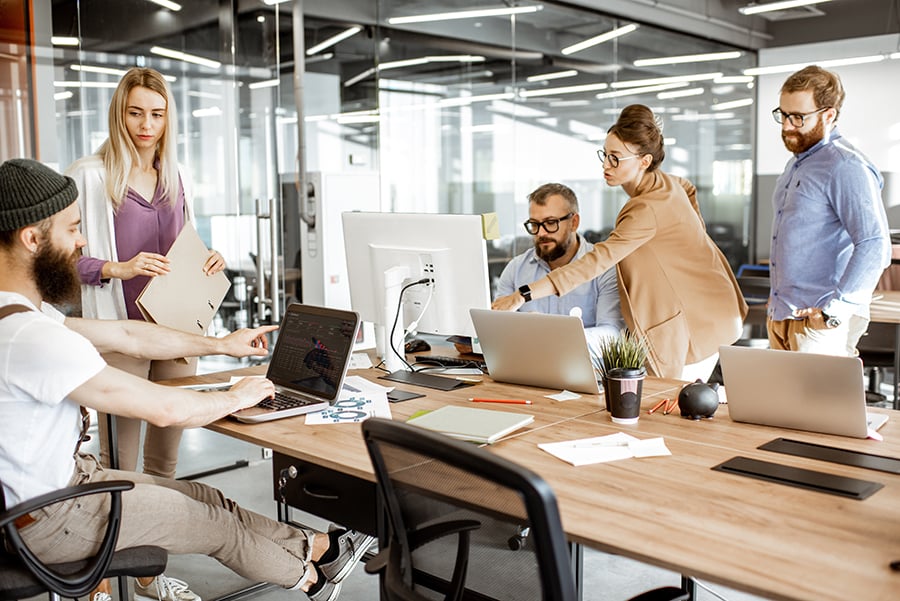 Guest blog by Sophie Pierce. Sophie is an interior decorating nut who loves to share her knowledge to anyone who's willing to give her a shot. On her free time, Sophie often contributes articles for various online publications and blogs based on her experience on the field.


The office space has seen great changes in the past few decades alone, ranging from segregated rooms and cubicles to, until recently, open space plans. While the adoption of one against the other produces several debates, there's a clear consensus that office space design impacts employee productivity and company culture.
Open offices, as we know them today, hamper productivity and have a negative impact on employees' efficiency. In a landmark study, researchers from Harvard School of Business in 2018 put the last nail in the coffin for open office plans officially: it doesn't deliver on its promise of increased collaboration.
These bad office designs can impact your employees' well-being, and this doesn't just mean their physical health. Employees' well-being encompasses cognitive and emotional elements of their experience as well. Studies on psychology by Maryville University note that there are definite links between an employee's mentality and their performance, and that their behavior and conditions are often correlated directly with the success of business goals. A highly engaged and satisfied workforce is what every business should be looking to achieve, especially if it can be done through simply changing the office layout and design.
That's why creating an optimal work environment helps both your employees' wellbeing and your business objectives. Here are four things you should consider:
Flexibility
Choice and control are very important factors for employees. With the rise of flexible working arrangements, younger employees are increasingly favoring an environment where they can choose where and how to work. In fact, numerous studies cited at Quartz found that autonomy is one of the biggest motivators for employees around the world. One way to encourage this is by creating designs that have both open and closed spaces that employees can choose from.
Privacy
One reason why employees dread the bullpen is the lack of privacy, and this is especially true for women. Studies cited at the Washington Post have found that women are more stressed in open offices than their male counterparts, as they are disproportionately impacted by the feeling of being constantly watched. To mitigate this, some have implemented what is called an activity-based workspace, where people can utilize different space configurations for a variety of purposes.
Comfort
Your employees' comfort level and productivity often go hand-in-hand. A tiny cubicle with artificial light, corporate-mandated chairs with no ergonomic benefits, and a lack of support features, all while staring at a computer all day, isn't exactly comfortable. Even something as mundane as poor ventilation can impact productivity, employees' mental health conditions, and even turnover rates. These little details add up. That is why many employers are increasingly turning to curated office spaces from specialized office design companies. Joe Humphries noted in a blog post that something as simple as good lighting can help people feel at ease at work. Another simple yet great addition are ergonomic chairs. Employees spend most of their time sitting and a comfortable chair can spell the difference between a productive and a passive day.
Equity
Inclusivity and transparency in the workplace are not just buzzwords anymore. While traditional office spaces flaunt hierarchy through square footage allocations and corner offices, younger employees want to be treated more evenhandedly. Status should no longer be attached to workspace trappings. In addition, workspaces that favor more equitable designs are more compatible with today's increasingly agile workflows. This means accessibility and usability should be the key principles for planning the design while steering away from putting undue focus on anyone. For example, the "closed fist" rule – meaning doors and trappings can be operated with your fists closed – is a great way to gauge physical inclusivity.
Building an office space that's beneficial to your employees' well-being shouldn't be hard in today's increasingly collaborative offices. Don't be afraid to plan it around what your employees actually want rather than overall aesthetics. Utilize surveys, suggestions, and planning meetings so they can tell you the ideal office they want and need.
Here are a few other articles we think you will like:
Subscribe to our blog for more CRE tips!!