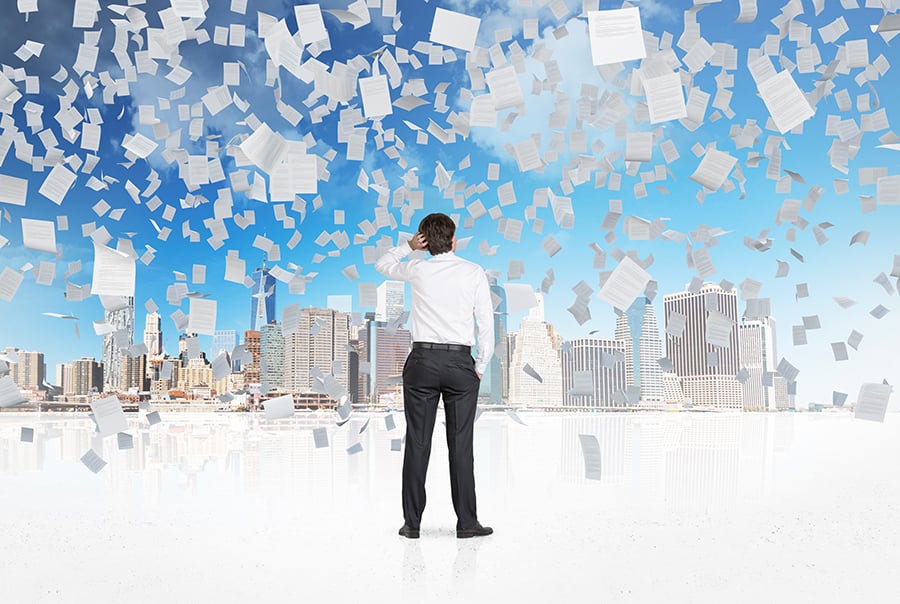 Guest blog by Holly Welles. Holly is a real estate blogger interested in the ever-shifting landscape of the market. You can read more of her work on her own blog, The Estate Update, and follow her on Twitter @HollyAWelles.
Regardless of industry, most professionals use special terminology to communicate with one another. Pilots, engineers, scientists, farmers, accountants and commercial real estate investors all have to understand the language associated with their profession — and it can get confusing.
If you're new to commercial real estate, or just want to brush up on some of the jargon, we've compiled 10 terms to help you do just that.
1. Request for Proposal
You'll have to determine what you need and want in a space, and having a conversation with a commercial real estate broker is one of the first steps. During the search process — as you come across properties you feel meet your criteria — you can submit your specifications in the form of a "request for proposal" document. This lets the landlord know what you're looking for, so you can begin your negotiations.
2. Right of First Refusal
A "right of first refusal" clause requires a landlord to offer you additional space to lease before making it available to the general public. If your business is in a commercial building that receives a lot of attention, this clause is an enormous advantage, allowing you enough room for growth if you intend to expand your operation. That said, you have no obligation, thus, the "refusal" part of the term.
3. Rentable Square Footage
The rentable square footage (RSF) is the total amount of space, including any space you share. It helps landlords calculate the rental amount for their commercial property and includes bathrooms in hallways, on-site gyms, cafeterias, reception areas and elevators. While this information is useful to landlords, business owners searching for a space should also consider the usable square footage.
4. Usable Square Footage
The usable square footage (USF) is similar to rentable square footage but refers to the amount of space within a building that the renter occupies. Knowing the USF can tell a business owner what they can expect from a commercial property, whether it can accommodate the scale of their business and other essential details. It's a far more accurate indicator of working space than RSF.
5. Capitalization Rate
Otherwise known as the "cap rate," this term represents the unleveraged initial yield on an investment. It uses an algorithm that divides the net operating income by the sales price of the property. Before purchasing a commercial real estate lot, many investors use the cap rate of the property to assess its potential, and the higher the percentage, the more they're willing to make the investment.
6. Parking Ratio
The parking ratio is one of the simpler terms on this list, referring to the number of parking spaces in a property's lot reserved for a company's employees. To find the parking ratio in your specific set of circumstances, divide the total rentable square footage of your space by the number of parking spaces. It's usually a ratio of spaces per 1,000 feet, and business owners should take time to learn theirs.
7. Building Classifications
Most markets will classify their buildings under A, B, C and D designations, using these letters to signify their age and quality. Class A properties represent newer buildings with sound structural integrity, usually in desirable locations with reliable tenants and attractive amenities. As the designation moves from B to C to D, the building decreases in value, though it's important to state these ratings are subjective.
8. Option to Purchase
The option to purchase clause in a lease is exactly what it sounds like, providing information to a company about how they can purchase the space they are leasing. This is more common with whole-building leases where a single tenant is responsible for the property, and if they choose to buy, the exchange typically occurs at the end of their contract. The clause should outline the terms in advance.
For other businesses, the option to renew is a more standard benefit to look for in a lease.
9. Real Estate Investment Trust
Real estate investment trust (REIT) is a security that sells similar to a stock on the exchange and invests in real estate directly, both through mortgages and properties. They offer investors yields that are often higher than average, receiving special tax considerations. Though this is one of the more complex terms investors and tenants should know, it still has a place on this list.
10. Sublease Clause
Not every landlord will include this clause in their lease, but if they do, tenants should reference it to determine whether or not they can sublease their space to another business or individual. If they're allowed by the terms of their contract, they're free to rent to someone else for a partial amount of time during the remainder of their lease. Otherwise, they won't enjoy that flexibility.
There's Always More to Learn
Commercial real estate is more complicated than 10 terms, of course. But this beginner's guide will give you a foundation on which to build. Study up, and good luck!
Here are a few other articles you might enjoy:
Subscribe to our blog for more Commercial Real Estate tips!!