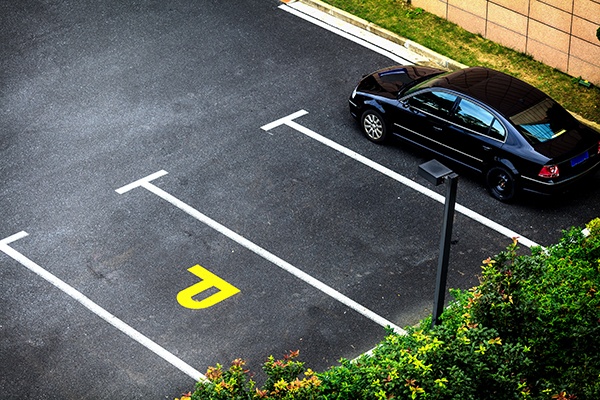 There is more to an office lease than your actual space, as defined by its demising walls. Your space is only as good as the building common areas that lead to it. After all, it's hard to get to a suite on the 14th floor if you don't have a lobby to walk into and hallways to walk down. Possibly even more important than the common areas is the parking garage, ramp or lot that the building offers. Paying careful attention to the parking area -- and your rights within it -- can help to ensure that the office lease you sign is the right one for your company.
Most office buildings offer some form of on-site parking. In a suburban garden building or park, it might be an extensive lot. Mid-rise buildings might offer an attached ramp and downtown high rises frequently offer a portion of the building that is dedicated to parking either above or below ground. Before signing a lease, you have to answer two questions about your proposed building's parking: is it adequate as it is and, secondarily, are my rights within it adequate and reasonably priced for my needs.
Assessing the Parking Situation
Touring the parking facility is an important part of any building tour before you sign an office lease. As you go through with the landlord rep, look at basic considerations like whether or not the spaces are large enough for your employees to be able to comfortably park (given the norms of the market). Pay careful attention to how long it will take to get from your suite to your car to the driveway. If you are looking at a ground floor space in a garden building, that time could be measured in seconds. In a CBD high-rise with multiple elevators to ride and the potential to need to drive through four floors of parking to get to the exit, it could take 15 to 20 minutes.


Next, return to the building a few times during the day to see what it is like to actually park there. While the visitor parking is probably always convenient and always open, once you're a tenant, you won't be parking there any more. Instead, you'll have to slog it out with everyone else. See if there is reasonable availability in the "regular" lot at the beginning of the day, middle of the day and even at the end of the day. What you're looking for is reasonable availability. On the other hand, if a building is half-empty and the lot is still three-quarters full, you might have some problems if you take up the remaining space.
Analyze Your Office Lease
Before signing take a look at your rights under it vis-a-vis parking. Typically, office buildings quote parking as a ratio. A building with 4/1000 parking means that it has four spaces for every 1,000 square feet of rentable space. Look to see how may spaces you are given and whether you have a guaranteed right to specific spaces or (more commonly) the same right to parking as everyone else.


Read your office lease carefully to see what will happen if you go over in spaces, which is a common occurrence if you have a dense build out and have people in the office regularly. On the other hand, if you have to pay for parking, estimate those costs if you will be bearing them. You might find out that it makes more sense to pay more rent and get lower cost parking. Finally, ask your tenant representative, since he has helped many other tenants in this situation.

Other great Commercial Office articles:
Subscribe to our blog for more tips!!