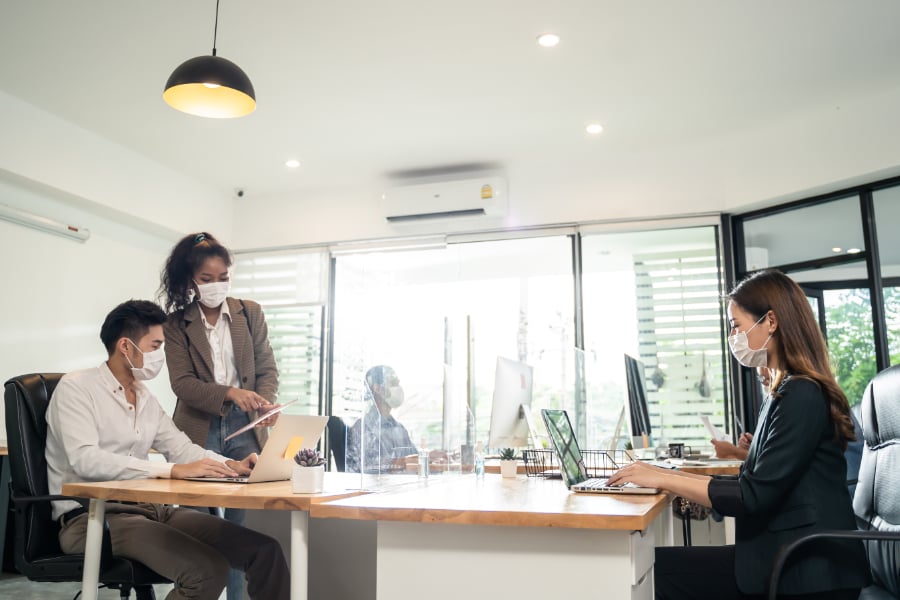 COVID-19 has massively accelerated the need for office space planning. Across industries, business leaders will use the lessons from this lockdown remote work experiment to reimagine how work is done as well as what role offices should play. With safety as an underlying principle, these essential points can enable a resilient workplace post COVID-19.
Reconstruct How Work is Done
The lockdown was mostly unplanned by most organizations. Hence, most companies adapted to the pandemic by digitizing their existing operations. However, this has produced mixed results overall. For some companies, they were able to record immense success; others couldn't achieve the same pre-pandemic results. Imitating pre-pandemic business operations may not be the way forward.
Organizations need to identify the most important processes for each major business, location, and function, and reconstruct them completely, often with involvement by employees. For example, organizations that used to generate ideas by organizing a meeting, brainstorming on a physical or digital whiteboard, and assigning someone to refine the resulting ideas may need to consider asynchronous brainstorming and incorporating ideas from across the organization.
Healthy Buildings That Manage Health Risk and Optimize Wellness
The post-COVID workplace cannot be reimagined if there are no touchless and hands-free considerations in facility design. Employers have to start shifting focus to how contact with high-touch surfaces, such as elevators, entrances, and shared spaces, can be limited by implementing hands-free alternatives.
For example, motion sensors, voice recognition, and retinal recognition can be used to facilitate a cleaner and safer workplace.
Besides, there will be the need for heightened levels of sanitization and deep cleaning protocols. Also, employers have to maintain active communication on good hygiene practices, with the use of visual cues.
Advanced Digital Capabilities
As remote works and flexible works gain momentum, collaboration and communication technologies will become important in offices. Conference spaces may be equipped with excellent video conferencing technologies. Immersive digital collaboration spaces with virtual and augmented reality (VR/AR) technologies can advance and support teaming capabilities.
Sensors and badges can be activated to provide utilization, occupancy tracking as well as wellness data. Also, hoteling and reservation systems can accommodate individual workstyles.
Human-centric Work Experience
As businesses seek to thrive in the post-COVID-19 world, a distributed activity-based workplace that supports the overall work experience will be essential. With increased remote work, the office will be essential in promoting the organization's culture and brand by acting as a showroom or innovation hub where employees and customers can connect. Hence, there will be a need for office space designs that showcase human ergonomics and biophilic elements that promote employees' health and wellness.
Resize the Footprint Creatively
As companies focus on rethinking their workplaces post-COVID-19, a transformational approach to reinventing offices will be necessary. For example, instead of adjusting the existing footprint incrementally, companies may need to take a fresh look at how much and where space is required. This will help in fostering desired outcomes for collaboration, productivity, culture, and the work experience. In addition, this will help in deciding where offices should be located.
Some companies may need to abandon the big-city headquarters and move to suburban campuses, while others will continue to have their offices in big cities, especially if they are intent on attracting young talent and create a sense of connection and energy.
Here are a few other articles to check out:
Subscribe for more great CRE tips!!