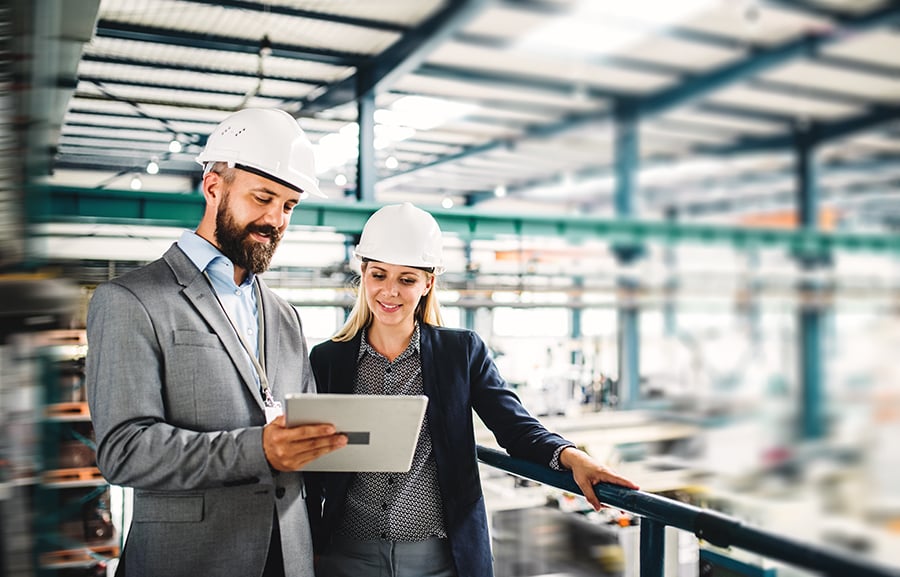 Guest blog by Holly Welles. Holly is a real estate blogger interested in the ever-shifting landscape of the market. You can read more of her work on her own blog, The Estate Update, and follow her on Twitter @HollyAWelles.
While you might be comfortable leasing commercial property, if you're looking for industrial space, then your first foray into the process may be intimidating.
Industrial property is far different than the standard office space. You wouldn't discount an office if the ceilings were half a foot lower, but these variations are crucial to consider when browsing the selection of properties. The height of the ceiling can have a substantial impact on your operation's efficiency.
In other words, you need a discerning eye when you're looking for industrial properties. A small mistake might result in severe complications, so it's vital to ensure you're getting the optimal space for your specific set of circumstances. Fortunately, you have a range of strategies to simplify your search.
What are the most critical aspects of industrial property, and how do you know you're getting the best deal? We'll walk you through everything you need to know and more, looking at the top five tips for leasing industrial space for the first time.
1. Don't Compromise on the Location
The ideal location for your industrial property isn't necessarily the one that's most convenient for your workforce. It's the one that's most convenient for receiving and shipping items. The functionality of the space takes priority, and you should search for a property that will streamline the key processes of distribution.
As an example, if you're planning to lease a facility to receive offloaded goods from a port and ship them out as air cargo, a property between the port and airport is optimal. If you're planning to ship by rail, a location with a rail spur is an appealing option. It may save you the expense of trucking your inventory.
2. Check Health and Safety Standards
The industrial space you eventually choose should have full compliance with current health and safety standards. Among other tips for maintaining a healthy worksite, the property needs good ventilation, accessible wash stations and climate control. These features will help ensure the security of your workforce.
You should also favor properties with hands-free plumbing and waste receptacles. The condition of the building itself is another factor to consider, as older buildings may contain additional hazards that could endanger your employees. A thorough inspection can assist you in sorting through your available options.
3. Thoroughly Inspect the Parking Lot
Similar to your commercial property, your industrial property needs adequate parking. However, the parking lot for your industrial space takes on new significance when you account for all the extra details. You have far more to think about than the number of workers you presently employ.
More specifically, the physical constraints of the parking lot are consequential for your operation's success. If you have trucks and trailers that have to navigate the area, they'll need a certain degree of freedom to arrive safely at the docks. Otherwise, the area's limitations may restrict movement.
4. Hire an Industrial Space Planner
An industrial space planner is a valuable asset as you move from property to property. You can consult them with any questions or concerns you may have, and they'll provide answers that will inform your final decision. Your ongoing conversation will offer insight into the most critical details of an industrial space.
Though aspects of the property like the parking lot and location are simple enough to assess on your own, you'll benefit from the expertise of a professional. They can guide you in the right direction, away from mistakes others in your position have made in the past. In short, they're worth bringing along.
5. Enter Negotiations With Leverage
When an industrial property has captured your interest, it's best to enter negotiations with leverage. You'll have far more flexibility in deciding the terms of your lease. However, it takes a bit of planning and preparation, and you should set aside time to research the current market before you move forward.
As you continue, look into the market norms for rents and lease terms. Search for similar spaces you could potentially occupy, and have the information on hand to bring up if necessary. It may prove useful as you speak with the building's landlord, especially if their initial offer is incompatible with your plans.
Leasing Industrial Space for the First Time
You don't have to feel uneasy when signing the lease on an industrial property. It may seem like unfamiliar territory, but once you understand the subject a little better, you'll have few issues in finding the perfect space for your goals. Just follow the five suggestions above and move forward with certainty.
Soon enough, you'll have an industrial property that meets and exceeds your expectations.
Here are a few other articles we think you'll enjoy:
Subscribe to our blog for more CRE tips!!