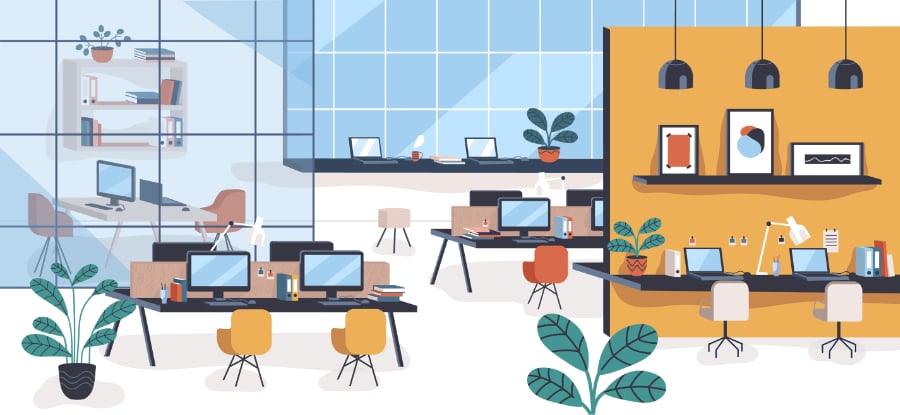 A lot has changed in recent times especially with the way we work. The concept behind what makes a workplace sustainable has also changed in the last few months. Today, employers are focusing more on how technology impact employee health and wellness, to achieve a truly sustainable workplace that is eco-friendly, cost-efficient, and health-conscious. In this article, we are going to explore three ways to create a sustainable workplace with technology.
Space Utilization
The COVID-19 pandemic has caused the need for businesses to be more reliant on technology than ever before. Many companies are already considering the viability of the Hybrid work environment. This will make corporate tenants more intentional about their space needs and utilization by taking advantage of the opportunity for smart, data-driven decisions are available within every element of design and construction, from glass curtain wall detailing, to implementing natural daylighting strategies, to prefabrications and raw material procurement. Also, a reimagined workplace with tracking sensor analytics will have more employees come back to the office so they will have clear, hard data to support future change and growth strategies.
Energy Efficiency
Smart light bulbs, thermostats, and power strips are rapidly becoming useful in the workplace. At scale, they help in cutting down on energy costs. For example, TechRepublic reported that a store reduced its energy consumption by 30,000 kilowatts and saved $3,000 annually by setting its air conditioner to turn on at 75 instead of 74 degrees.
With an office full of technology, energy bill and environmental impact can quickly rise, hence ensure you're doing the following:
make sure energy-using devices are ENERGY STAR compliant;

enable energy-saving features on printers, computers, monitors, and other devices that have them;

turn off devices when they aren't in use;

ditch the desktop—laptops consume far less energy;

use a desk lamp with a low-wattage LED battery instead of relying on overhead lighting;
Employee Wellness
A company that will increase workplace sustainability will have to focus on employee wellness. Companies need to research how workplace architecture and environment impact employee productivity. For example, improving the air quality in an office is beneficial for people and the environment. Companies can go green with their office lighting by choosing a space with maximum natural light or choosing the greenest form of artificial light.
Also, making a space sustainable means factoring in flexibility for the future. You want to ensure that the space design is flexible enough to accommodate changes, whether it's another pandemic or a staffing influx due to a business strategy shift. Whether companies are pursuing LEED certification or they want materials that look green, employees should be able to see, feel and experience that the space is healthier and reduces the impact on our environment.
As the world seeks to bounce back from the effect of the COVID-19 pandemic, discussion as regards sustainability in the workplace will become more holistic. Designers, architects, engineers, and policy analysts are utilizing technology in ensuring a truly sustainable future for offices.
Here are a few other articles to check out:
Subscribe for more great CRE tips!!