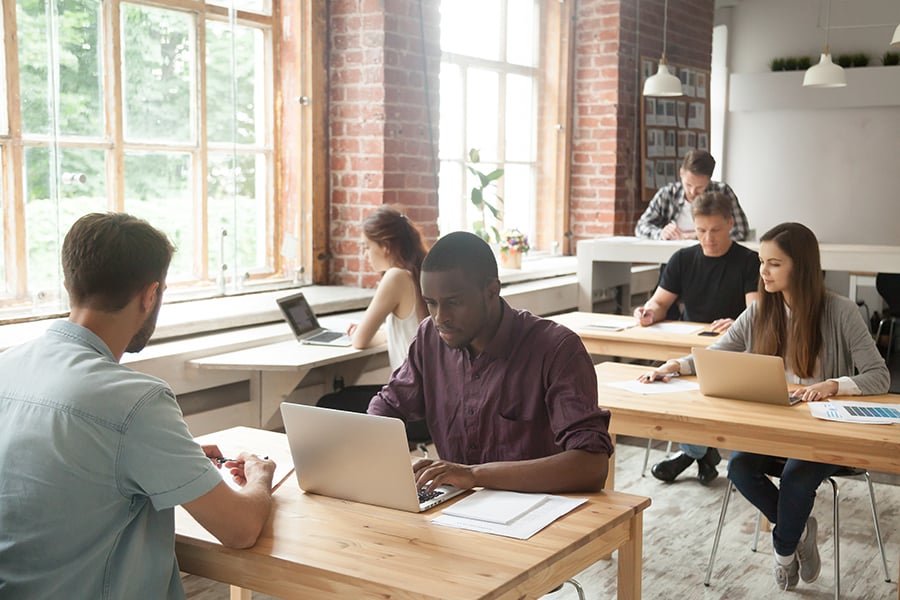 Guest blog by Holly Welles. Holly is a real estate blogger interested in the ever-shifting landscape of the market. You can read more of her work on her own blog, The Estate Update, and follow her on Twitter @HollyAWelles.
Small office spaces are on-trend, whether because of lack of space in an urban area or because they cost less money. Many small business owners find that they don't need as much space as they originally thought when designers use every square inch efficiently.
Since 2010, the average square foot of office space per person is 33 percent smaller. Less than a decade ago, people had about 225 square feet of space each, and today, they have around 151. Experts predict the square footage will go down to 120 square feet per person by 2020. One of the things impacting office design is shared spaces with open concepts and plenty of amenities for all.
If you're in the market for office space and need to stick with something smaller — due to what is available in your area or the amount of money in your pocket — there are some features you should look for that allow you to get the most benefit from the least amount of space.
1. Expandability
Think about your business two or three years down the road and how much space you might need. Does the building have the option to expand in some way? If you're leading co-space, you might look for a larger building where you could lease more desks in the same general location.
If you plan to lease or buy a non-shared building, then think about the nearby buildings or empty lots and if it would be easy to expand or you'd have to completely move your operations.
Because you're on a budget right now, you may be limited in this area. If you find a space that perfectly suits your needs and funding for now but you know you'll need to move in a few years, it might be worth going ahead and leasing the space and planning ahead for when it's time to move locations.
2. Layout
Some shared office spaces have as little as 70 square feet per person allowed. An open layout keeps you from feeling claustrophobic in such tight quarters, but you'll also need some private room. Look for a smart design for the interior layout.
Consider whether or not there are spaces for quiet. You may be able to install pods if you need to take an important phone call without a lot of noise in the background. Small office spaces can put workers in close-quarters, so you'll need to be mindful of the layout's ability to foster privacy.
Is there space for meetings where you won't disturb others? Are the walls used efficiently? Is there good flow through the room, with mindful planning of where doors open into the space and how desks can fit within — or do you have to trip over others to get to your workspace? Built-in features like pocket doors and movable barriers can go a long way in expanding compact spaces.
3. Building Amenities
Consider the amenities that come with your building and how they might impact your business operations. For example, fast and reliable WIFI is an absolute must for most businesses. You'll also need to check for conference facilities, smart technology and other features that can improve your office experience regardless of its square footage.
If your workers will be there eight hours a day, then other factors become important, such as a break room where they can keep their lunches and rooms with solid doors for holding private meetings. Office design and amenities play an important role in employee productivity.
4. Parking
Find out what the parking situation is near the potential leased spaced. Parking is one thing that impacts your team members and can save them money or cost a bundle. If your clients come to your office, you also don't want them to have to pay for parking to do business with you. Some urban shared office spaces simply don't come with parking and never will.
Parking in urban centers is always at a premium. However, moving your location just a few miles from the center of the city may gain you on-site parking at no additional cost.
If you feel you need to be in the heart of the city, find out where the local parking garages are and what kind of deals they offer to groups. You may just want to include parking costs as a perk of working for your company to ensure you gain the best workers in your industry.
5. Shared Space
Spend time in the space before you actually sign a contract. If you're taking out space in a shared building, there are likely other teams that you'll want to check out. Some people are naturally louder than others, and trying to work in the same space as a high volume sales team or some other chatty group can reduce your team's productivity.
Visit the space around the same times of day your own team will be in there working and observe what's going on. Talk to the property manager about how it is handled if a noisy group comes in and disrupts others. Find out what the specific policies are so you know if the location is a good match for you.
Making the Most of a Small Office Space
Once you've gathered all the facts and narrowed your choices down to a few local office spaces, check out online reviews and try to interact with some of the managers and workers already in the building. What do they love and hate about the space? Getting direct feedback from those who already use the location will help you make the final decision about where your brand might work best.
Here are a few other articles we know you'll enjoy:
Subscribe to our blog for more CRE tips!!