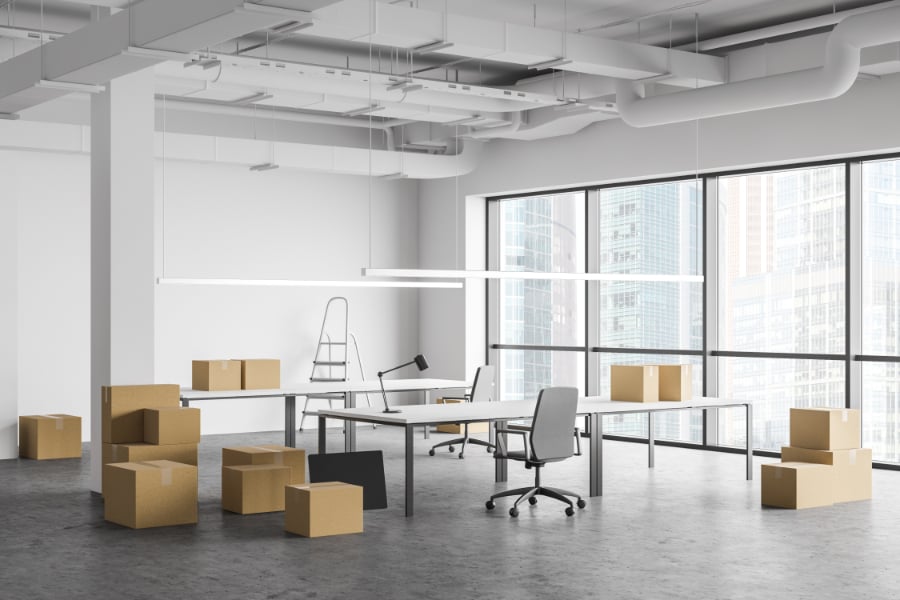 Guest post by Marné Amoguis. Marné holds a B.A. in International Business from UC San Diego. She is a contributing writer at 365businesstips.com where she loves sharing her passion for digital marketing. Outside of writing, she loves traveling, playing music, and hiking.
Moving your office can be simple if you have only a few employees and even fewer offices, but large businesses require the proper planning to transition from one office to another. If you're not careful and don't properly plan, the move can turn into chaos, which leads to downtime and your business not running smoothly during the transition. Luckily, you can avoid most of the problems associated with moving offices by planning. Here's how you can streamline your big office move.
Plan Early
Just like you'd plan when you're getting a mortgage and moving houses, you need to plan for a big office move. As soon as you know your moving date, contact all of the companies you need to hire, including moving companies, and let your employees know about the big move.
By the time you're done planning, you should have a list of the logistics so that you can coordinate everything and put someone in charge of making sure everything gets done. Starting your planning early ensures that you have enough time to make sure the office move goes smoothly. You should also prepare for a move even before you've signed a new lease.
Even if you don't know where the new office location will be, you still know what will need to get done for a successful office move, so make sure that you start as soon as possible and can let everyone know what their duties will be.
Keep Information in One Place
From your logistical planning to paperwork outlining your new office rent, all of your documents should be kept in one place. No matter where you're removing or how many people are involved, you're going to have paperwork dedicated to the move that shouldn't get lost, including
Notes

Contracts

Inventory

Schedules

Spreadsheets
All of these documents will need to be accessed by you and your employees at any given time, so make sure that everyone can access them. If you want to avoid any hassle of potentially losing paperwork, consider making all of your documents digital and keeping them in a Google Drive folder that anyone can access.
Set Your Budget
Your business needs to make money to stay in business, so there's no reason to lose too much on an office move. However, you must keep your spending under control by tracking all of your expenses and budgeting properly. The best way to set your budget is to create a budget with a team for all moving-related expenses.
Once you have a budget, you can start hiring your moving company and other professionals who will make your move go smoothly. You should also include furniture, equipment, and office supplies that you'll need to purchase for the new office space. Make sure that your budget gives you enough room for all of the people involved in the process and all of the items you'll need in the new office.
Tell Your Employees
While your employees should already know that you were considering moving office spaces, it's important to let them know you've signed a new office lease as soon as possible so they can start preparing their workspaces.
Your employees will have some questions about the move, so it's important to address those as quickly as possible. You can hold a meeting with the entire office or send a memo so everyone has the necessary information, including:
Reason for the move

Location of the new office space

About the new office, including features

Official moving date

Employee responsibilities in the moving process
Create a Timeline
A timeline is a time budget for your office move that tells you when certain tasks involved in the process should be completed. For example, you might want to have all of your new office furniture purchased at least three weeks in advance of the move so you can ensure they are delivered on time.
Make your timeline realistic, especially if it involves your employees. For example, if you need employees to remove all personal items from their desks so the movers can move them at a certain time, make sure everyone knows so nothing personal gets lost.
List All the Items You Need
Make a list of all the items you'll need, from furniture to appliances, to help you design the new office without going above budget. You should also consider tools and supplies that will be used daily, such as coffee, napkins, and hand sanitizer.
You can also use your big office move as an opportunity to design your office with the best supplies for your employees. Ask your employees to create a list of the items they need to make their jobs easier. For example, your marketing team might need a whiteboard to help them brainstorm ideas and collaborate better.
Make Changes Before the Move
If your new office space isn't perfect and will require a few changes, such as knocking down a wall or adding offices, then you should do that before the move. There's nothing more distracting for your employees than construction, and it can also make the environment unsafe. So if you're planning any major renovations or construction, make sure they're completed before your employees start coming into the new office.
Downsize
Use your move as an opportunity to clean and organize your office and supplies. There's no reason to bring old documents that have been digitized to the new office to take up space. Instead, enlist someone who can help you organize your office so the move can go smoothly and you're not bringing clutter into your new office space. By taking the time to get organized now, you can start working at the new office with a clean slate and keep it organized for longer instead of bringing your old mess to your new office.
Enjoying Your New Office
The first day your employees arrive at the new office invite them to go on a tour and get acquainted with everything before they hunker down to work. You should also ensure all of your employees have a workspace available and everyone can easily collaborate. After your move, the only thing left to do is enjoy your new office and make changes to it as you go.
Here are a few other articles we know you'll enjoy:
Subscribe to our blog for more CRE tips!!