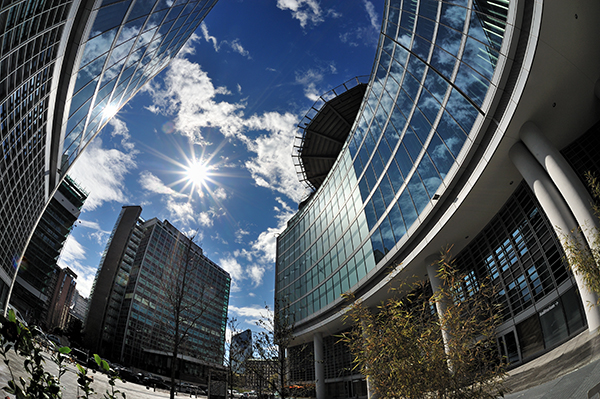 2015 is getting into full swing, and we are already seeing new trends in the field of green commercial real estate. Here are five trends that we're tracking closely -- and that you should be too:


1. Green Refers to Dollars And Cents
As more and more green buildings go up, more and more data points are becoming available to document their financial performance. Overall, the trend is clear: green makes green. Environmentally friendly properties have lower risks, reducing insurance premiums. They also have better occupancy and rents coupled with more stable operating expenses, stabilizing and increasing cash flow. Companies that occupy green commercial real estate as a part of a larger environmental strategy outperform those that are less eco-friendly. All of these factors are leading to increased capital for these buildings, hopefully leading to more supply as time progresses.


2. Start Thinking About Sharing
When you buy a book and lend it to a co-worker, both of you get to read it, but only one book has to be manufactured. A single Uber or Lyft driver in a dense city like New York or San Francisco can make it possible for multiple people to live without their own personal car, reducing the number of cars produced and on the road. Sharing is green. Now, imagine sharing your office space. What if, in the same space, you had your workers, key vendors, space for clients, and artists that work near you and create a unique vibe. Imagine if you all shared the same reception area, work room and in-office cafe. Think how much more efficiently you could use your space and what you'd save by collecting pooled rents from everyone. Shared commercial real estate is coming if you aren't already doing it.


3. Green Energy Systems Will Keep Getting Cheaper
Once, solar panels were so expensive that they were only found on showcase test bed buildings. Today, they're becoming almost ubiquitous in the sunny parts of the United States and increasingly common elsewhere. However, the panels you see on the ground in 2015 all have a shared problem -- they are typically between 12 and 18 percent efficient. In other words, they only turn a small fraction of the solar energy that strikes them into electricity. Right now, panels with efficiencies that are well over 50 percent are currently under testing. They will revolutionize power generation in the residential and commercial real estate industries.


4. The Debate Will Get Louder... And Less Important
As the 2016 presidential election approaches, you can expect debates about climate change to intensify. However, within the commercial real estate world, the debate is over. Green real estate makes good economic sense -- regardless of where the politics (or the science) falls. Furthermore, if you have locations in low-lying areas near the ocean, there's a good chance that your city is already preparing for increased sea levels -- and you might want to look into making preparations as well.


5. Your Roof Matters
Whether you own or lease your commercial real estate property, your roof just got a great deal more important. Once, roof space was an inconvenience and an expense. In today's green world, though, a roof is a major asset. It can host energy saving technologies, banks of solar panels that generate power for sale to utilities, or food production facilities. If you haven't been up there, work with an expert to see how your roof can contribute to a cleaner world -- and to your bottom line. For leased spaces, look carefully to see what rights, if any, you have to your roof area.