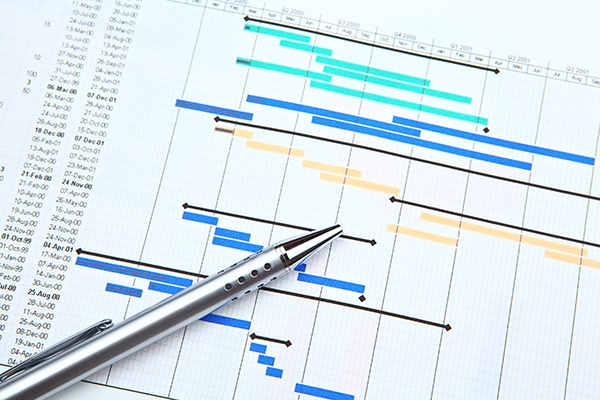 If you've been through the process of building out a new space, you know that there are many different factors to manage. It starts with getting the lease signed and goes all of the way through getting the space ready for you to occupy before you have to vacate your previous space. Once you lock down the space, most office buildout projects have six general steps that can all overlap.


Step One: Space Planning and Architectural and Engineering Drawings
Immediately upon gaining control of the space, you will need to retain your architect or engineer to begin designing it. The drawings are the key to every step that goes beyond it, so it's important to both get them started as soon as possible as well as have your architect work on a tight timeframe so that the rest of the project can progress.
Step Two: Select Furniture, Fixtures and Equipment
This might not seem like an important step to do up front, but if you need a large table in your conference room that won't fit through the door, you'll need to have it delivered and installed before construction is done. Also, the best way to ensure that the pieces for which you are designing your space will be available when you need them is to buy them before anyone else does.
Step Three: Permits
While you are working on your FF&E, you and your architect can begin the process of applying for permits. Depending on your city's building department, this could be a very easy process, or it could be extremely challenging and time consuming.
Step Four: Choosing a Contractor
You can begin this step while you are working on your permits. It's futile to begin the process of finding a contractor and collecting bids until you have your plans ready for them to prepare their cost estimate, though.
Step Five: Construction
Your contractor will give you a construction schedule that outlines certain milestones that they will hit as they complete your build-out. Pay close attention to their schedule and to any intermediate goals. If they fail to miss a target early in the job, it could have a serious effect down the line.
Step Six: Punch List
If you wait until you've started to move into your new office space to start working on the "punch list" of items that need to be completed, it may be too late. As soon as the contractor says that they have finished a part of the job, do your inspection and create a punch list of repairs. That way, they can work on some of your punch list items while they are still building. This will help to minimize the amount of time that your employees have to co-exist with construction laborers finishing up the job.
Managing the Process and Moving In
Managing these six steps and all of their intermediate steps is practically a full-time job. While many corporate real estate executives build lists of dates or Gantt charts in Microsoft Word or Excel, those tools don't interface with calendars, making it easy for important milestones to end up being missed. It's a better idea to use a tool that integrates calendaring, whether it's Outlook or a specialized commercial real estate portfolio management package. These tools can help you to better manage the schedule so that you can hit the most important date right on time -- your move in date!
Other great CRE articles:
Subscribe to our blog for more great tips!!