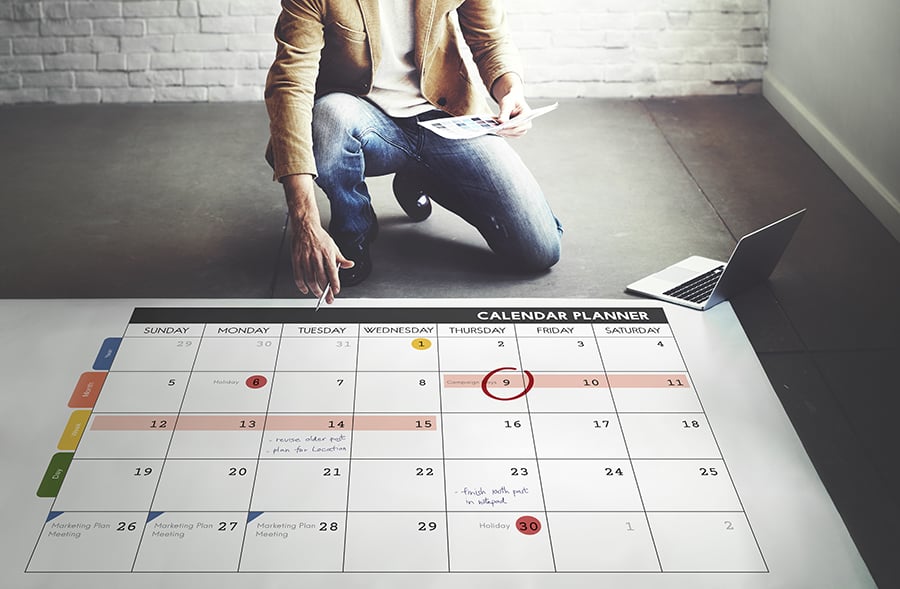 Guest blog by Holly Welles. Holly is a real estate blogger interested in the ever-shifting landscape of the market. You can read more of her work on her own blog, The Estate Update, and follow her on Twitter @HollyAWelles.
A commercial lease is a significant commitment. The lessee should feel secure in their decision to sign, not rushed or uncertain. They need to prepare far in advance of their negotiations, making decisions on a sturdy foundation of research and planning so they might preempt any problems.
To that end, a lessee can structure their transition with a timeline. When they create a schedule, they're able to visualize the process and their place within it. They'll make steady progress and, little by little, move forward until they sign the lease on their new office space.
So where should a business owner begin if they want to develop a timeline? What should they keep in mind as they continue? The following five steps serve as a guide, providing an outline for entrepreneurs as they mark this exciting milestone in their company's history.
1. Evaluate Goals and Needs
The process starts when the future tenant sets out their company's goals and needs. They need to remember that their decision will affect every aspect of their business, including their revenue, productivity, sustainability and future success. Naturally, it's critical to think about short- and long-term goals.
Beyond these goals, a business owner also has to evaluate their needs. They should give thought to how the new space should function, what type of property is best for their plans and square footage per employee. Depending on the size of their company, this stage should take one to four weeks.
2. Locate an Agent or Broker
Business owners will benefit from the expertise of a real estate agent or broker. They should search for an experienced professional with a long history of helping commercial tenants. As they review their options, they may consider hiring a tenant representation firm in their area.
Of course, business owners shouldn't commit to the first tenant representation firm they find. They need to know that their chosen firm has a good reputation, which requires additional research. As they progress through this stage and utilize the services of a broker, they should expect to take one to four weeks.
3. Organize a Shortlist
After they secure an agent or broker, a business owner enters the selection stage of their timeline. They tour the market and select two to three properties with potential for their business, applying the information they gathered from step one. This stage usually takes two to eight weeks.
Once they've narrowed down their options and organized a shortlist, they request and compare proposals. As they conduct test fits and build a consensus among their team, they'll start to have a better idea of which property is best for their business. One to four weeks is a realistic timeframe.
4. Negotiate the Lease
The tenant representation firm will prove indispensable as the business owner negotiates their commercial lease. Even so, they shouldn't neglect to study CRE terminology, learning the language of the agreement they intend to sign. In doing so, they can have a firm grasp on what the contract entails.
As they navigate this stage of the process, business owners should research the local market. They also need to perform the proper physical due diligence so they're aware of the building's condition and any issues. This stage of leasing a commercial space will likely take between one and four weeks.
5. Move Into the Property
A tenant with a new lease should hold off on celebrating until they officially move into the building. This is the final stage of the process, just as critical as the previous four. As they prepare for the move, a business owner needs to account for their various responsibilities and plan ahead.
They need to remain in close communication with their employees, making sure each of them understands their individual duties. A business owner may choose to motivate them with incentives or use alternative methods to increase efficiency. As for time, moving may take between one and four weeks.
Timeline for Finding a Commercial Space
A commercial lease is a significant commitment, but it doesn't have to feel overwhelming. When a tenant creates a timeline for their transition, they'll have far fewer issues throughout the process and manage any unexpected issues. With that in mind, business owners should evaluate the five steps above and start structuring their timeline today.
Here are a few other articles we think you'll enjoy:
Subscribe to our blog for more Commercial Real Estate tips!!