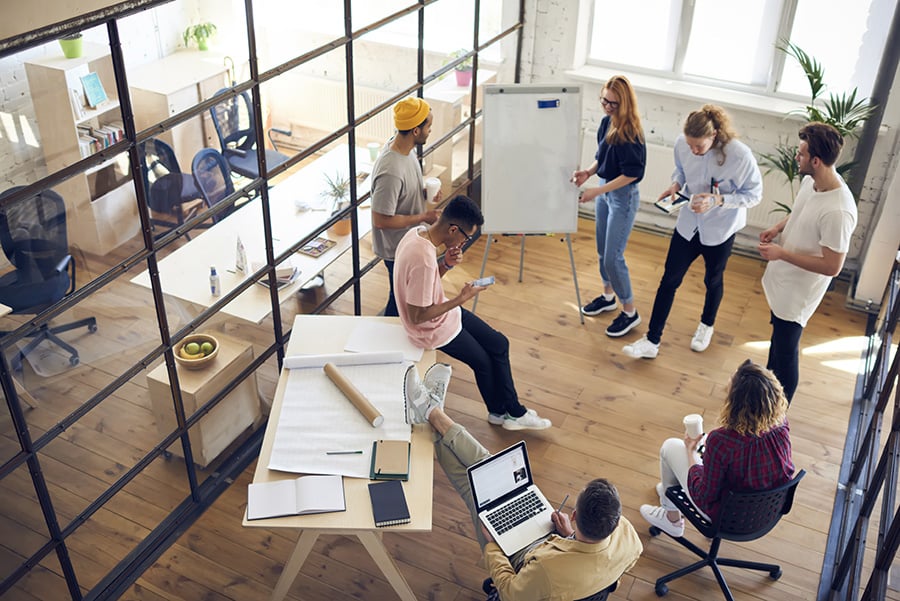 Guest blog by Jen Dela Cruz. Jen spent eight years in real estate, with six years in commercial leasing and facility management. She is now the leasing director of Figari handling leasing and business development. Follow her on Facebook.
Office trends come and go, but one thing that does not change is the impact of the office environment on employees' performance and productivity. Many studies have shown that the secret to getting the work done is through a well-planned workspace - one that makes it easier for employees to accomplish tasks quickly and effectively and motivates them to work more collaboratively and creatively.
Here are some of the ways by which the right layout and design can boost office space productivity.
Bringing in Natural Elements Positively Influences Work Output
Study after study has shown that natural light, warm temperatures, and a certain level of ambient noise improve employee engagement. Rethinking your office lighting design contributes to a decrease in cases of eyestrain, headaches, and stress. Employees benefit from office spaces that maximize natural lighting and introduce adjustable lighting systems. Adding greenery also helps clean the air and provides a calm atmosphere.
Integrating Ergonomics Minimizes Health Risks
Ergonomics turns an office space into a comfortable environment by improving conditions in which everyday activities are performed. The correct use of ergonomics lessens health risks associated with strain and muscle fatigue. More than just properly designed desks, chairs, and monitors, the office layout can include work areas with the ability to alternate from sitting to standing positions. Quiet zones and break rooms also help facilitate creative brainstorming.
Getting People To Move Sharpens Concentration
Office space designs help employees lead an active lifestyle by compelling them to move and not sit around all day. This can be done in simple, cost-effective ways like arranging the furniture to require workers to walk around. Adjustable workstations help employees get a boost of energy by inspiring new ideas and perspectives through collaboration. Outdoor spaces for physical activities also encourage employees to take a few minutes away from their screens.
Upgrading Amenities Boosts Morale
Amenities not only give office spaces a modern feel, but they also help make life easier for employees who need to recharge, relax, and bond with colleagues. And they need not be luxuries. Amenities can include cafes or even vending machines with healthy snacks to improve the employee experience. Lounge areas and spaces that provide on-site services like daycare facilities and clinics help employees balance work and life responsibilities.
Using Smart and Automated Technology Saves Time
Having the right technology incorporated in the structure of workplace systems helps employees perform their functions better. Employees save time by not having to worry about their presentation equipment and meeting room software. Having office tech that is up-to-date and in good working order will lessen glitches that hamper employee productivity.
Being mindful of significant office design improvements that impact employees' wellbeing can increase efficiency and help you get the most out of your employees. This includes thinking about what makes them feel more creative, inspired, and engaged at work. Happy and energized employees get the job done in a smooth and efficient manner that's in line with the company's mission. And that's good for everyone's satisfaction.

Here are a few other articles to check out:
Subscribe to our blog for more great CRE tips!!