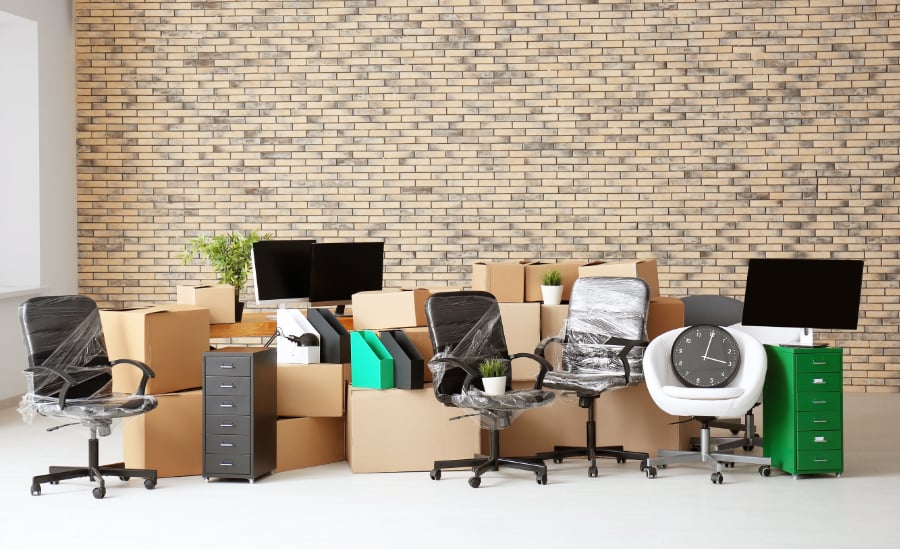 Guest blog by Samantha Rupp. Samantha holds a Bachelor of Science in Business Administration and is the managing editor for 365businesstips.com. She lives in San Diego, California and enjoys spending time on the beach, reading up on current industry trends, and traveling.
Many companies are currently going through a period of downsizing in addition to facing tighter profit margins. If you're a business owner trying to plan a move to a smaller office with a smaller workforce, it can be intimidating to figure out all the expenses you need to account for. For example, will the relocation mean that there will be an effect on business operations and a drop in profits? Are you moving everyone together or department by department? How will you budget for all of the required moving expenses?
If you're already dealing with a loss of profits because of the market downturn, the last thing you want to worry about is adding more expenditures to the books in the form of moving costs. However, there are plenty of ways you can save money on your office move. Keep reading for our guide to saving money for an office relocation and a quick checklist to ensure that your move goes to plan.
1. Plan Out in Advance
Have you ever noticed that if you wait to do something until the last minute, like a trip, you tend to pay more? Well, the same idea applies to moving. To get the best deal, it's important to plan far in advance. In fact, you should be making high-level plans six months to a year out from your planned move-out date. By doing so, you can plan out your expenses better. Plus, it's almost impossible to book movers on short-term notice.
2. Organize Your Inventory
Do you need all the pieces of furniture and equipment in your current office? Well, you won't be totally sure until you make an inventory list and figure out what you can get rid of. Make sure to dispose of items you don't need and get rid of those items properly if you want to avoid fines. Consider donating your unwanted items to charity, you might even be able to get a tax write-off and save even more money.
3. Find a Professional Moving Company
This is probably the most important part of your entire moving process. Use a moving company that's within your budget, but make sure you're choosing one that's professional. It can be tempting to choose the cheapest moving company and leave it at that. However, if you go that route, you will get what you pay for and might have tons of broken office objects and furniture that will be expensive to replace.
4. Move During the Offseason
Everyone tends to move in the spring and summer. But since demand increases during those seasons, you'll tend to pay more for moving services. Not to mention, real estate tends to be more expensive during the summer and spring, as well. Consider relocating your office during the fall, winter, or early spring to save on costs.
5. Negotiate Prices with Service Providers
Everything in life is negotiable, including your moving services. Don't take the first offer that comes your way. Shop around and talk to customer representatives who might be willing to work with you to get you the best deal.
6. Insure Valuable Equipment
Even if you use professional moving services, accidents happen. If you're worried about your valuables, it's a good idea to insure precious assets. Replacing equipment is very expensive, so it's a good idea to protect yourself from those costs by buying insurance, just in case the worst-case-scenario happens.
7. Embrace DIY Packing
Although you can have professional movers pack your office belongings, one of the easiest ways to save money is by packing yourself. To make this part of the moving process go by a little faster, make sure that you have the entire office help out. Of course, if you ask your team to help, it's only fair to temporarily reduce their workload while they're moving.
Getting the entire office to help out with the move can also easily be turned into a team-building exercise as well. Make it fun and make sure to treat your team to a nice happy hour after. And, don't ask them to work outside of their normal work hours, people have children and families to tend to after all.
8. Use an Office Moving Checklist
Organization is your best friend during a move. Use this as a basic checklist to measure your preparedness and guide to your moving.
Space and Furniture Planning
Conduct an office census to get an idea of how many people will be working in the new office

Calculate how much space you have to add more people if your business grows

Review and plan new office layout

Identify shared spaces

Breakroom

Printing station

Conference rooms

Consider furniture options

Sell outdated furniture

Look for refurbished furniture
Technology
Evaluate any necessary tech upgrades like a stronger WiFi network or more powerful security options

Conduct IT assessment

Evaluate the phone system

Data services

Server and hardware

Printer relocation

New network strategy
High-level Planning
Establish a timeline for the move

Figure out how to move while minimizing business impact

Reserve move dates with the new property owner

Assess move in and move out procedures at both locations

Kick off a spring cleaning process before the move occurs

Publish a seating plan

Conduct initial walkthrough
Vacated Office Considerations
Review office lease for turnover instructions

List out inventory items that won't be moved

Shred unneeded documents

Plan signage removal

Schedule final walkthrough with the landlord for vacated office
Communication Considerations
Transfer numbers

Establish an internal communications plan

Tell team new rules for parking, security, etc.

Publish moving instructions for employees with dates

Publish network outage timeline

Update all contact information on the website

Notify post office of the move
Takeaways
To reduce your office relocation costs, you should start off by planning the move far in advance. Leaving things to the last minute means you're going to spend more money because you have no other choice. With that said, as long as you have a smart plan in place, you can reduce costs and enjoy a smooth relocation.
Here are a few other articles you might enjoy:
Subscribe to our blog for more CRE tips!!