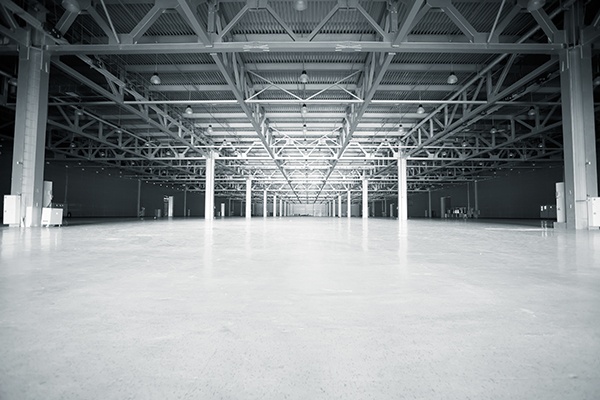 Warehouse occupancy costs are under your control. As long as you own the space or have a triple net lease that allows you to have control over how the space is managed, there are a few quick fixes that you can put into place that will have an immediate impact on the cost of managing and operating your warehouse space.
Cut Energy Costs
The underlying real estate for a warehouse isn't that expensive to run. There aren't a lot of property features to maintain - maybe some office space and a rec room or two. Rents are usually relatively low, too. However, warehouses require light and some facilities require heat, air conditioning or both. Here are a few things that can quickly reduce your warehouse occupancy costs with little capital expenditure:
Replace traditional 400 watt warehouse lighting systems with high-efficiency fluorescent warehouse lighting systems. T-5 and T-8 lights don't just save power - they also reduce the amount of heat in your warehouse, reducing your cooling costs.
Consider KVAR power factor correction systems if you have particularly large motors in your warehouse. These can be especially valuable if you have high efficiency lighting but need to run climate control systems with large motors. Your utility can help you calculate if you can benefit from this technology.
Add zoned occupancy sensors to your lighting system. This way, you aren't lighting areas of your warehouse that aren't in use.
Fix any damaged weatherstripping around your roll-up doors. If you are experiencing considerable heat loss, look at investing in insulated doors.
High-efficient fluorescent lighting systems can work wonders when attempting to shrink your warehouse occupancy costs through energy savings.
Look Up, Not Across
Instead of adding square footage to your warehouse, add additional height. Many warehouses use their floor space effectively but fail to effectively utilize the third dimension of the cube.
Even if you have racking that fully utilizes the height of your storage area, you may have additional areas throughout your warehouse where you have too much headspace. You can lower your warehouse occupancy costs by using mezzanines or multi-level systems. Some of the areas where you can regain additional space are:
Picking, packing and shipping departments
Once you've gone up, consider investing in a space planning expert to review your warehouse to ensure that everything is configured for the best balance between warehouse occupancy costs and efficiency. While it's good to squeeze as much into your cube as you can, there's also a point of diminishing returns where higher storage efficiency turns into even higher labor costs.


Make sure your warehouse is at its highest storage efficiency without disrupting the workflow of your employees.


Rethink Your Warehouse
Whether you own or lease your warehouse, you can also quickly cut warehouse occupancy costs by simply occupying less space without shrinking business goals. Here are two changes you can make to operate with less space at lower cost.
1. Have the right space for most of the time. If your warehouse is bursting at the seams every month, it may be time for more space. If you have more than enough space all year, but get tight for a month or two at the end of the year, you don't need more space. You need a smaller space and a public warehouse for your overflow. Paying for expensive public space for two months is usually better than paying for unused space for 10 months.
2. Drop-ship large items. If possible, work with your distributors to drop-ship large items to customers. If you're a distributor, see if the manufacturer can ship directly to your customers. The less you store, the less you spend.
Other great Warehouse Articles: